The Client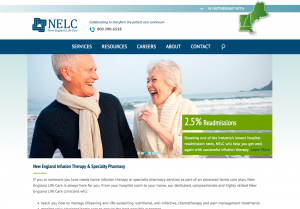 New England Life Care provides experienced, efficient and effective home infusion therapy, home infusion nursing and specialty pharmacy services including nutritional, anti-infective, chemotherapy, pain management, and more to communities across Massachusetts, Maine, New Hampshire and Vermont. 
NELC's responsive network of home infusion therapy clinicians, pharmacists, logistic support staff, billing and insurance experts allow their patients to start their home infusion therapy treatments fast—often within hours of notification. They also partner with other nonprofit providers to support and empower patients regardless of their ability to pay, reduce the costs of advanced home care and improve the health of their communities.
NELC is proudly affiliated with 39 of New England's most prestigious medical centers, and honored that several representatives from these fine institutions serve on their Board of Trustees and help to shape their mission, vision and values.
The Objective
In approaching flyte with the design and development of their new website, New England Life Care's primary goal was to delight their customers. They envisioned rolling out new features in stages and slowly integrating new interactive features and portals.
NELC needed a website designed to grow with their expanding organization. A website that also could serve  the presentation of career opportunities that resonate with ideal job candidates.
It was also very important for New England Life Care to build a strong connection to their member hospitals. 
The Tools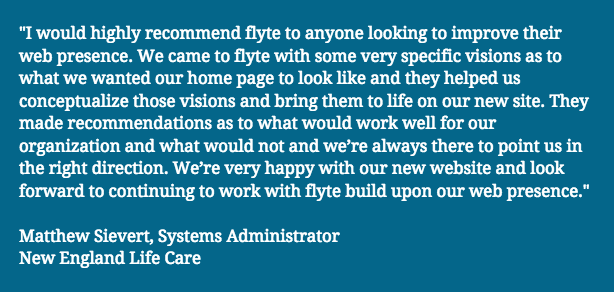 We used WordPress to develop a fully custom, responsive website designed to attract and convert the desired target demographic.
We built this website on a responsive design, which makes this website
more
than
mobile friendly
. Responsive design ensures this website will function smoothly across any screen size, giving users a seamless experience whether they're accessing the site from a desktop computer, tablet, or smartphone.
It also helps boost search visibility, by providing the mobile friendly experience that has become a critical piece of search engine optimization.
The Outcome
New England Life Care now has a modern, engaging, professional website with custom features that serve their customers & community partners.
In addition to an attractive, customer focused website, the new NELC site also includes:
Integrated Member Hospital Search –  A custom tool that allows users to determine if their hospital is a NELC member, and also access directions and contact information quickly.
Customized Site Experience – Users can select their experience with NELC based on their personal hospital. A custom tool allows patients to  select their hospital via the Map at the top right of the page. Choosing a partner hospital adds the logo to the site, creating a unique customer experience.
Site Visitors Can…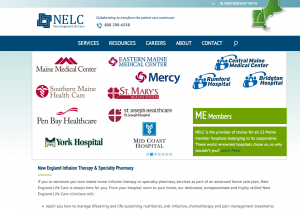 Find and access critical information quickly, and with ease. The integrated member hospital search tool makes it easy to find out if one's hospital is a member of NELC. Further, the search tool provides directions and contact information as well, making the customer's life easier during what could be a stressful time in their lives.
Visitors can also find important information related to their care, such as answers to common questions about home infusion therapy, phone numbers for immediate help, and links to relevant health organizations.
Users can also customize their website experience, and browse the NELC website under the trusted label of their preferred (member) hospital.
Career candidates can quickly find information on company culture, benefits, and current job openings.
Be sure to contact us when you're ready to take your business to the next level with a professional, engaging, responsive website.