What can you learn at a digital marketing conference?
Last Friday was our second annual Agents of Change Digital Marketing Conference. It's a conference we put on here in Portland, Maine, and stream over the web so people can watch it from all over the world.
The conference is to help business and organizations better market themselves and communicate with their audience through digital channels. We spend the day talking about search, social & mobile marketing. 
This year we got right to the point, by bringing in Roderick Russell, one of only 50 people in the world who can swallow a sword. He blew our minds with fantastic mind-reading tricks and by swallowing a 26″ sword. (Yes, it was a real sword and he really swallowed it.) But you'll have to buy the on demand digital pass to see it in all its glory. 😉 )
Roderick shared with us how to be remarkable in business. One of my favorite takeaways from Roderick's presentation was when he talked about when he first started out, always trying to just do the most amazing tricks, but not connecting emotionally with his audience. As he said, they were wowed, but they weren't moved. You need to connect with your audience.
Chris Brogan took the stage next and shared with us how important  it is to fall in love with "not knowing" and not being afraid of "being dumb." You can learn a lot that way.
Rich Brooks (that's me) took the stage next. (Brilliant, right? Follow Chris Brogan and a sword swallower at your own conference and people might think you're someone special, too. 😉 )
Judging from the tweets during my session (damn straight I read them, people!) the big takeaway was around publishing higher quality content less often. 
"You can't beat the Internet on volume, but you can beat it on quality, clarity and perspective." 
We had a lot more all-star moments during the day. Laura Fitton spoke on how to use Twitter in an authentic way to connect with people. John Dumas, the Entrepreneur on Fire, shared how his passion for entrepreneurship and podcasting turned into a six-figure annual income in less than a year. Corissa St. Laurent showed how businesses and non-profits could build their list through email marketing.

Then, there was lunch, where nearly everyone went outside and sat on the grass for a giant, unplanned picnic.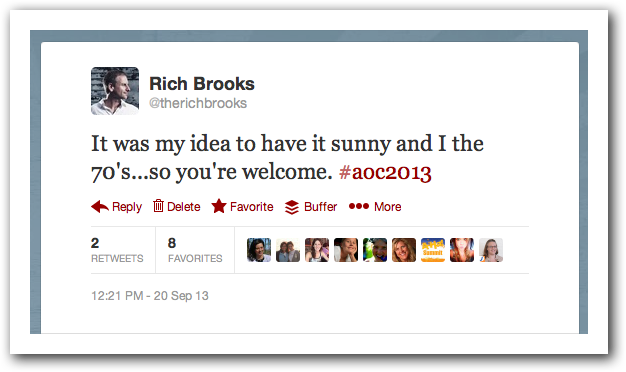 I think that was supposed to read "and in the 70's." 
After lunch, James Wedmore shared some brilliance in YouTube marketing. We had a Facebook panel, a SEO expert panel, advice on digital advertising content marketing, shopping cart options, and a remote presentation from mobile marketing expert Greg Hickman. 
The whole day wrapped up with an informative interview where Jamie Tardy interviewed Michael Stelzner of Social Media Examiner.
After a free beer and pizza from Shipyard and Leonardo's respectfully, a large group of attendees met up at Boone's for an after party. 
And then a few of us created an after-after party, but we're not going to talk about that, except to say there was a rousing game of Cards Against Humanity.
Days pass…
It took me a long time to realize things had gone well. This didn't happen by accident. All of the flyte crew chipped in, either by working on the conference directly, or picking up the inevitable slack. Speakers dedicated time and energy to their craft, and took time out of their days to come to Portland, several traveling cross country to make it. 
And of course the audience…everyone taking off time from work or school to invest in their futures, and to network and connect with their community.
It was a great day, and I walked away with a lot of great ideas, meaningful connections, and great memories.
Apparently I wasn't the only one.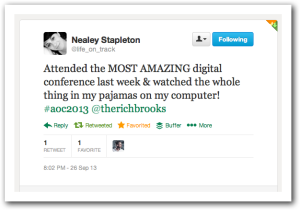 I found a lot of great posts from people who went to the conference. Please go check them out, and leave comments for the people who wrote them.
If you know of any other posts, podcasts or articles about #aoc2013, be sure to let me know in the comments so I can add them. Also, if you were there and have any thoughts you'd like to share, please let everyone know in the comments below.
And thanks for being part of the change. 🙂