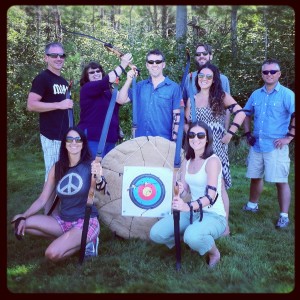 This post is sponsored by Visa Small Business, but the opinions are all mine, and any comments are all yours.
Last month I told a story about how our company About page, with its photos of our staff as little kids, helped attract the right type of clients while dissuading some poor-fit people from hiring us.
I kind of wish I had saved that story, because it fit so well with this topic. 😉
By channeling your company culture, best described as the "soul" of your company, into your marketing, you tend to attract the right type of prospect to you.
Everything your company does externally—in front of customers, prospects, and the general public—is marketing.
Everything you do internally—from company outings to the questions you ask during the hiring process—is your company culture.
Not to get all zen on you, but when we as human beings have our internal beliefs and external behaviors in sync, our life becomes easier. But when they're not in harmony, we struggle to keep our stories straight, and others see us as insincere and untrustworthy.
The same is true with our business. When we act differently internally—towards our employees and co-workers—than what we preach externally, we come off as disingenuous.
Your company culture and your marketing need to be in sync. The question is, how do you accomplish this? 
Get Your Story Straight.
You might start by asking your employees how they would describe your company culture. Even in a small company, as the boss you may have a different perspective than your employees on the company culture. (You think "avuncular" and they think "overbearing" or "condescending.")
If their opinion is not in line with your own, then you may need to ask them what would need to change to achieve the original company culture you had in mind.
Hashtag it.
In a staff meeting, ask employees to describe the company culture in hashtags. Is your company #adventurous, #welcoming or #paranoid? (If it was the last one, it might be time to work on that company culture…before you start in on your marketing.)
If you're afraid that you might skew the answers by asking publicly, use a tool like SurveyMonkey where people can answer anonymously.
Boiling it down into simple hashtags can give you some themes around the type of marketing and messaging you should use.
If your company is #entrepreneurial, you should be sharing articles that talk about how companies can grow, and write your website copy and sales pages to reflect how your product or service can help small businesses succeed.
If your company culture is deemed #educational, you should be creating how-to posts that help your target audience accomplish their goals.
If people describe the culture as #competitive, you might want to focus on how to help your customers beat out the competition. (You might also cancel the three-legged race at the upcoming company picnic…especially if there were punches thrown last year.)
Hand your co-workers the mic.
Social media policies are often created with the best of intentions, but can often muzzle some of the more interesting voices in your organization.
If your company is a fun and playful place to work, you might consider giving your employees the leeway to post a funny video to Facebook, or Instagram all the hot sauces you have in the company fridge.
This is especially true if part of your marketing is about attracting new talent. Think about what a great job Southwest does attracting a certain type of personality to work as flight attendants.
If you find yourself in a heavily regulated industry, you might need to have stricter controls over what your employees can say. Those blog posts and even status updates may need to go through a vetting process to make sure they don't break regulations.
But that doesn't mean that you still can't let your employees speak. A front line healthcare employee can share news stories about this year's flu numbers or a partner in your financial services firm can still make weekly YouTube videos about investing wisely…all with the normal disclaimers as required by compliance.
Takeaways
Start by making sure you have a healthy company culture that supports the mission and vision of your business. This doesn't mean that you have to be all lovey-dovey…some companies thrive on a competitive environment that brings out the best in the people they hire.
Follow that up by looking at the marketing messages you send out, and determine if they are in sync with your company culture. Just remember that everything you do (that can be seen) is marketing. So don't just pay attention to that latest email newsletter, but everything from how your front line employees treat customers to the type of events your company sponsors.
You'll find that when you do, your marketing becomes easier and your company will grow.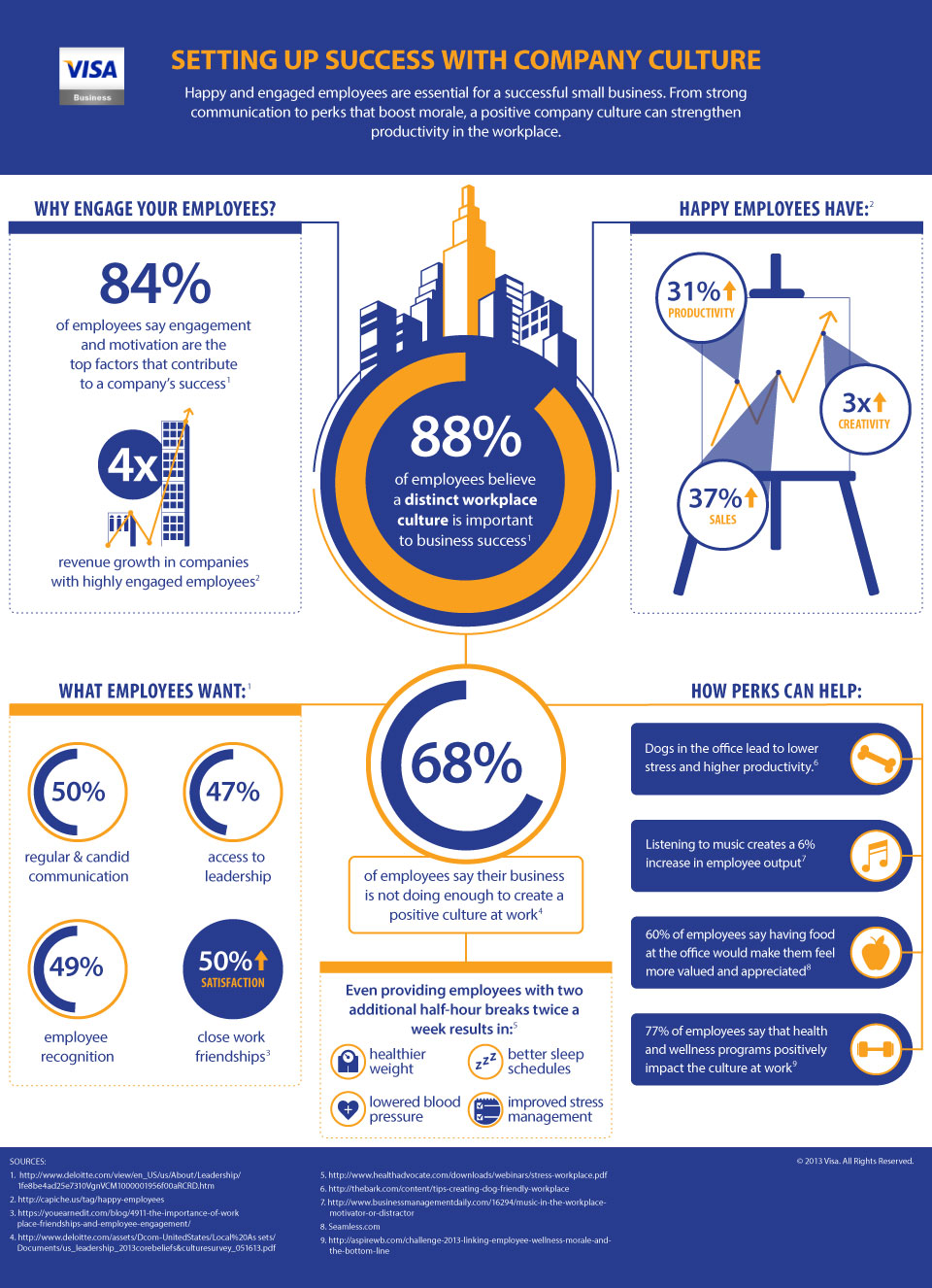 I am blogging on behalf of Visa Business and received compensation for my time from Visa for sharing my views in this post, but the views expressed here are solely mine, not Visa's. Visit http://facebook.com/visasmallbiz to take a look at the reinvented Facebook Page: Well Sourced by Visa Business. The Page serves as a space where small business owners can access educational resources, read success stories from other business owners, engage with peers, and find tips to help businesses run more efficiently. Every month, the Page will introduce a new theme that will focus on a topic important to a small business owner's success. For additional tips and advice, and information about Visa's small business solutions, follow @VisaSmallBiz and visithttp://visa.com/business.