How to Claim Authorship of Your Online Content and Add Google+ Authorship if you have Multiple Authors on Your Business Blog.
What is Google Authorship? In simple terms it is a way to claim you are the author of your blog posts and online content.
By creating a Google+ account and then using Google's rel=author tag on your site, you are letting Google know that you wrote that content.
In turn, your picture is likely to show up in the search results by your article. According to Google it may use authorship as a ranking signal helping to boost your search rankings.
Other benefits of Google Authorship:
1. Better Click Through Rates. Having your photo in the search results may lead to a higher CTR (Click Through Rate), as folks feel that the content is more trustworthy.
2. Grow your Google+ following. Folks are likely to click on your photo to learn more about you. When they find your content helpful they may add you to their Circles on G+.
3. Become an expert. Google Authorship can help to affirm you as an expert in your field and drive traffic to your other posts and articles.
How do you add Google Authorship to your site?
First make sure you have a Google+ account. You will also want to make sure that you have your bio filled out.
Next step, make sure you link to your blog from your Google+ account.  To do this…
– Go to the 'About' section
– Click edit
– Scroll down to 'contributor to'
– Add the name of your blog and the URL
Now, it's time to add the link to your WordPress site. From the dashboard…
– Visit your admin section of your WordPress site
– Click 'Appearance', go to 'Editor' and then to 'Header'
– Add  <a href="[profile_url]?rel=author">Google</a> to the header (Replace the [profile_url] with YOUR profile URL, visit your profile on G+ to find it.)
It should look like this <a href="https://plus.google.com/109497632121474914447?rel=author">Google</a>
How to add Google+ Authorship to posts when you have multiple authors for your blog.
There is a great WordPress plugin that is super easy to use called "Google Plus Authorship Plugin".
Add the plugin to your blog and activate it.
Make sure that you add the Google + ID (URL) of each author to each of the users profiles. To do this go to 'Users' and select a user, when you scroll down the profile you will see the new plugin at the bottom of the page. See image below.

Once this is completed each post that is tagged as that particular author will automatically have their rel=author tag added to the header of that particular blog post.
You can check this right away by viewing the source of the blog posted or by testing it using the http://www.google.com/webmasters/tools/richsnippets.
It can take a few weeks to arrive, however you should receive a confirmation email from Google that you've been added to Google Authorship.  See below.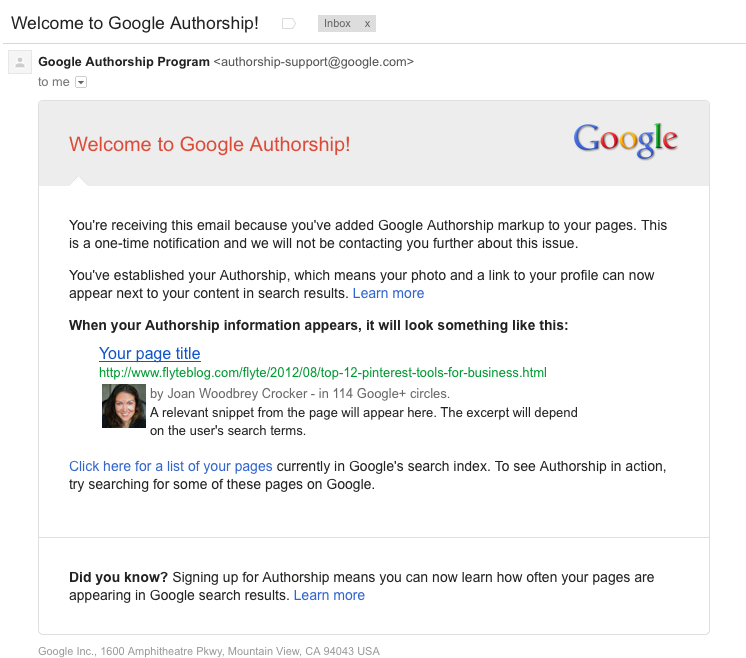 Once you've received this email, feel free to go search Google to see if your image is showing up next to your content in search results.

 And, it's as simple as that!
Have you claimed Authorship of your blog? Are you seeing your image in the SERPs? Have you noticed a higher CTR? Let us know in the comments section.
By Joan Woodbrey Crocker
Claim Your Content!
photo by geishaboy500