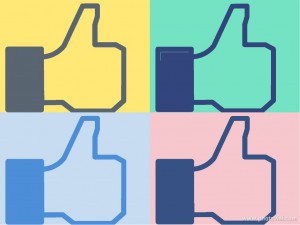 Is your goal to get more fans for your Facebook page? Follow these 5 Simple steps.
To get more likes quickly for your business page, target the friends of your fans with Facebook ads.
If someone sees that their friend likes your page, they are MORE likely to click the like button and like your page. The social proof is in the pudding, if you know what I mean. 
Below are five tips that will help you create an ad that will build the right audience, not just acquire likes. You want to build a following that will lead to a product or service being purchased. Meaning, you don't want just any audience, you want to build an audience that is valuable to you.
Creating a powerful, effective ad is ALL about targeting. So, you need to target friends of fans, but you also need to make sure that those friends are interested in what you have to offer. Here's how you do it:
1. Create a new Ad for your Facebook page. (Follow these steps)
Choose the destination (Your Page)
Choose "See Advanced Options"; this will allow you to do CPC (cost per click) pricing
Create a new Ad about your page
Once finished, make sure you check off "Show Stories about – People liking your page"
Choose your targeting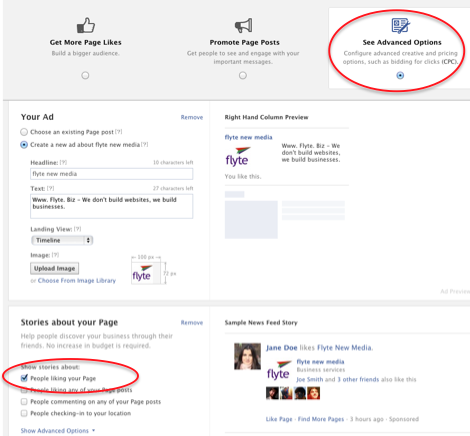 2. Target Precise Interests
Start by targeting your audience by location, age and gender.
Next you want to use "Precise Interests" targeting.
When folks fill out the "About" section on their personal profiles, they type in all sorts of interests into specific categories, such as: favorite music, books, movies, TV shows, athletes, sports teams, favorite sports, activities, interests, inspirational people and specific Facebook pages. All of this can be used for Facebook ads targeting, and specifically in Precise interests targeting.
Facebook has provided advertisers with amazing targeting options. When typing in precise interests think about what your audience is interested in, think sports teams, publications, affiliations, businesses, TV shows, celebrities, causes, activities, movies, etc. What does your typical audience like? You need to know your audience so you can target it.
For example, if you are selling a gourmet food product, you may want to target folks who have said they like Saveur Magazine, the Food Network, Giada De Laurentis, Top Chef, and local restaurants. 
When typing in precise interests you'll notice that several different formats of the same word or phrase pop up, make sure you select them all.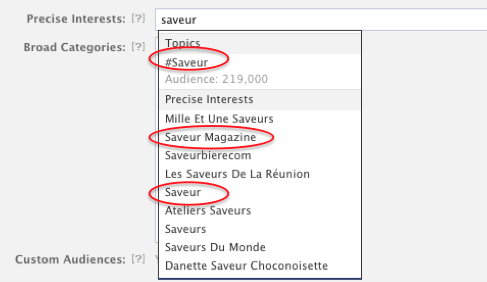 3. Target Broad Categories
Once you've selected all your precise interests it's time to move on to Broad Category targeting. Facebook recently changed their targeting options so you can use both precise targeting and broad categories at the same time.
In the past, broad category targeting wasn't very useful. Broad categories are created by Facebook and they are pulled together from terms folks have used on timeline. Why didn't this work so well? Well, they were too broad. For instance, if you wanted to target "Luxury Goods" did that mean you were targeting folks interested in high end cars or jewelry? So, it wasn't so helpful to use by itself. 
However, now that you can use both targeting options you can be more specific. 
So, sticking with the gourmet food product example, you will want to go through the broad categories and select anything that fits your audience. For instance you could select cooking, food & dining, and any other categories that might make sense.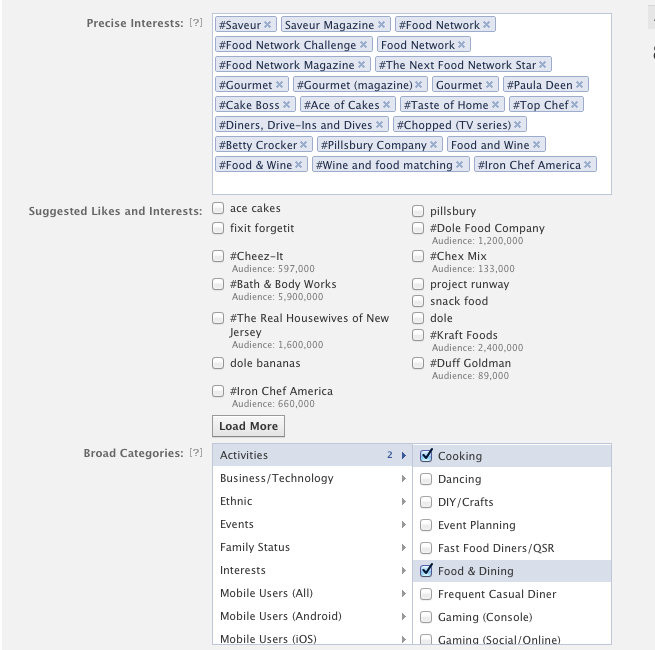 4. Connections
Make sure that you check off "Only people not connected to (your page)." This way you are not spending money on clicks from folks who have already liked your page. Advertising directly to your likers has its time and place but this isn't it. 
Then you want to target people whose friends are connected to… (type your page in here.) This is how we make sure that your ad is being seen by friends and connections of those that have already liked your page. 

5. Campaign and Budget
Name your ad campaign and determine your budget
Choose optimize for clicks
Manually set a value for clicks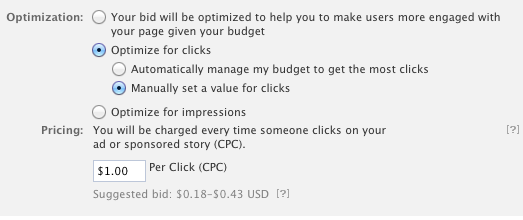 At this point, your ad should be narrowly targeted, which that drives down the suggested bid per click. You will want to bid toward the high end or just above the suggested bid. If you have any questions on how bidding works check out our recent blog post on Facebook bidding.
Here's an example…
Recently, we were working with a client to increase their fan base. By targeting the right audience as described above, and giving the ads the extra bonus of social proof, we achieved a CTR of .57% (.27% is considered great!), lowered the suggested bid and therefore the CPC to less than $0.22/click and acquired new likes for less than $0.26/like.
What does that mean?
It means we've been able to increase their Facebook fans rapidly with a small budget. And who wouldn't want that? 😉
Ready to try this out? Let us know if you have any questions in the comments section and be sure to share your results!
By Joan Woodbrey Crocker
Facebook  Marketing Specialist
Addendum: Shortly after posting this blog, I sent out an email to our blog subscribers. I let them know that I had attended a Search Marketing conference last week, called SMX East. At the conference I learned great new tips and tricks when it came to Advertising on Facebook, the above being one of them. Shortly after the email went out, I received this email from a client… So it MUST be working!!