flyte launches new website for Let's Go! childhood obesity prevention program.
flyte recently created a new website for Let's Go! on WordPress. Let's Go! is a non-profit program working to increase healthy eating and active living for children birth to age 18.
"We chose to create a new website because the functionality of the one we had before was clunky and unreliable, we needed the information to be easier to find, and we needed a look and usability that would make people stay on the website long enough to find and use the resources." Says Rick Fortier, Let's Go!
"We are working really hard to create healthier lives for children both in the here and now, and for a lifetime! So we needed an effective way to connect ourselves, our resources and model with our community. The program is designed to collaborate with key partners in order to spread our programs and resources across the state. And it's designed to be replicable, so that others across the country and beyond could adopt and integrate the model into their communities. We needed a website that would effectively help us meet those needs," says Fortier. 
"The new site is already helping us do all that by making our resources easier to find, it has a look and feel that keep visitors engaged, and people are really excited about our new blog page. It's created a one stop shop for everyone using Let's Go! to make a difference in their community. And most importantly the website does all this in a fun and engaging way."
The new website from the Let's Go! offers improved site and info architecture, a new design and ease of use. Check out some of the highlights below.
Toolkits: Providing 3 different ways to access this material, you can download an individual PDF, watch the virtual binder or download the entire toolkit. The toolkit's are easier to search through and find the materials that you are looking for in a clean design with the expandable drop downs.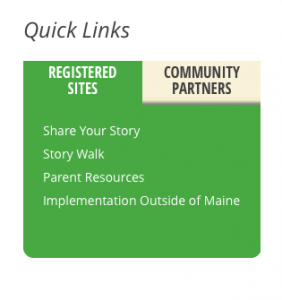 Quick Links:
The quick links feature on the home page allows parents and caregivers to quickly access the resources pertinent to them. This feature is also easily updated via the links section on WordPress allowing Let's Go! to edit/add and manage links conveniently.
Blog:
Another great new feature of the site is the healthy eating blog, Spotlight. This feature allows Let's Go! to regularly post news, program updates, and featured sites as well as provide helpful information and tips for all those interested in promoting physical activity and nutrition.
We encourage you to sign-up for Let's Go!'s blog feed to receive updates, and share them with your family, friends and colleagues.
Subscribe:
Use the subscribe box on the blog to sign up either via email or rss to keep up with the most recent posts. You can also have information delivered right to your inbox by subscribing to their email newsletter.
 You can find Let's Go! on Facebook, follow them on Twitter, or check them out on YouTube.
If you are looking for some great information on how to stay active and eat healthy check out the new site today for some incredible resources. If you need a website that you can update yourself and ranks high in the search engines, contact flyte today!