Improve your Facebook Engagement with Better Updates.
Recently I read a fantastic post over at Hubspot on How to Analyze Facebook Insights to Improve your Content Strategy. Here are some key takeaways.
As business owners we are all short on time. It's important for us to use our time wisely, and that means finding shortcuts, analyzing processes and creating a strategy that produces the most fruit from our labor.
Many times when it comes to social media strategies we are all over the place, wasting time trying everything because we aren't quite sure what is or isn't working.
So, what are the best ways to discover which posts are benefiting our business most?
We need to start by analyzing our Facebook Insights data. However, the reports available to us through export on Facebook are riddled with columns of useless data making it difficult to discover what data we should actually pay attention to.
Enter Hubspot's awesome post from yesterday which provided us with great tips on how to weed through the data leaving only what's important to creating better content on your Facebook page.
So, yesterday, using the methods outlined in the post above, we took a peek at out efforts on Facebook to find what was working for us and what is really a waste of time.
Once you've cleaned up your data leaving only the columns that are important you can create a couple of stacked line charts that will allow you to gain insight with a quick glance. Next step is to pull up your Facebook insights page so that you can compare the chart with the posts and analyze the dips and spikes. So, in other words, which posts created the most interaction.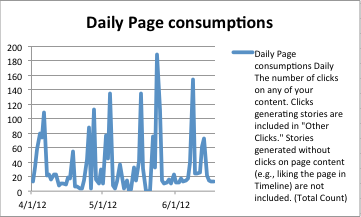 In the chart above (which I've minimized for purposes of fitting into this post) I matched up the date of the spikes with the posts on Facebook. To do this, simply visit your page, click view Insights, and then from the overview tab scroll down to page posts. You can click on a particular post and it will give you a preview of what the post was. (see example below)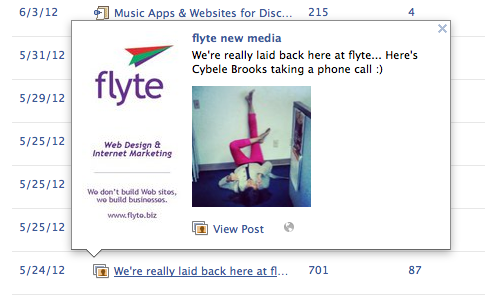 Here's what we found…
Things that work!
Photos are the most engaging content that we post to our Facebook page. This can be something as silly as a photo of George as the new flyte guard dog or a picture of some not so well hidden Easter eggs. It also includes photos that are part of an update asking a question, such as "iPhone or Droid: Which are you?" or "Iced Coffee or Iced tea?", which leads me into number 2.
General, easy-to-answer questions are the second most engaging content on our Facebook page. These questions can be silly like the above examples or a little more business relevant like, "Are you currently using Pinterest for business?" or "Is your small business prepared for the end of Facebook?" Some of the formats that work well for us are Pick One:, Multiple Choice, Thumbs Up If, True or False, fill in the blank, in 5 words or less… and Open ended questions.
Facebook related content – Many of our posts that have something to do with Facebook, whether it's a blog post, image, link or question, tend to perform well. We believe this to be true of course because chances are if you follow our page, you are looking for more information on how to use Facebook for your business. These tips and highlighted stories about Facebook on Facebook make sense.
Things that don't work so well
Automated posts, in particular our blog posts that are syndicated using NetworkedBlogs. While there is some engagement with these posts, and they are something we will continue as the information is valuable to our customers, and the blogs themselves are great for SEO. We cannot rely on these posts to draw engagement on our Facebook page. Meaning we need to still post other content several times a day even if the blog is being posted to our page. [We may stop automating them and see if this improves engagement.]
Not Posting At ALL – As you can imagine our engagement hit rock bottom if we missed posting on a particular day, which means we need to be posting every day.
Dry Posts– Meaning they lacked flyte's usual snarky, humorous, irreverent, fun personality. These posts were possibly too safe and lacking a controversial vibe that generates conversation.
Salesy posts. Here at flyte we very rarely get salesy or promotional on our Facebook page and this is exactly why. While these posts may get a few sign ups for an event, they usually don't receive many shares, likes comments etc. Meaning: use this sparingly as these posts are not going to increase your engagement on Facebook. However, although they don't get high engagement per se, they can be useful for that extra registration or sale.
What type of posts work best for your business? Please let us know in the comments below!
Joan Woodbrey Crocker
"However beautiful the strategy, you should occasionally look at the results" – Winston Churchill
Photo Credit: By stoneysteiner