How can you use QR codes for marketing and lead generation? (Hint: throw in a leg of prosciutto.)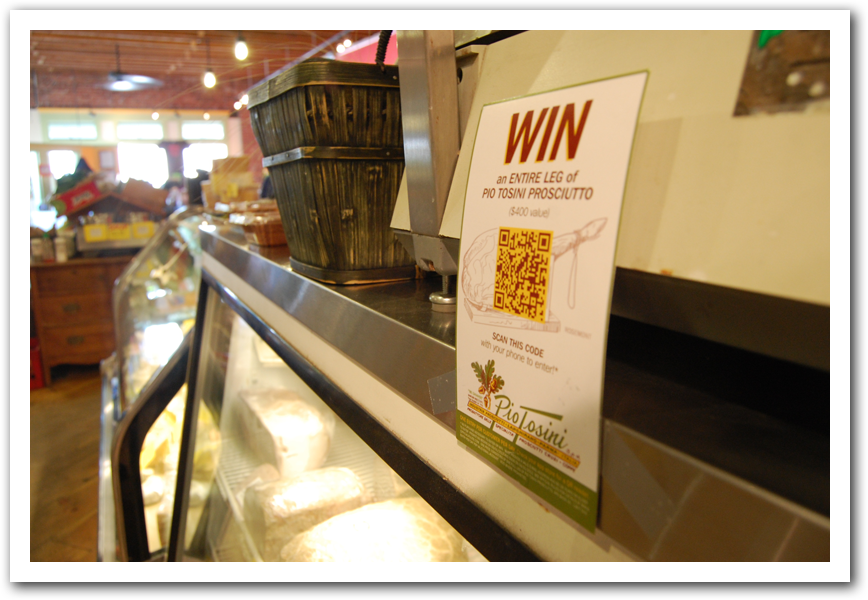 That was the question that we pondered as we worked on a pilot program with Braden Buehler of Narrative Design for The Rogers Collection, a Maine-based importer of luxury foods. They wanted to promote Pio Tosini's prosciutto in an engaging fashion, and build their email list at the same time. 
There are already plenty of fine food importers experimenting with QR codes on product packaging and in catalogs. At Rogers, they decided to engage their customers while they stood at the deli counter, eyeing the prosciutto.
"Pio Tosini Prosciutto de Parma is a premium purchase for any shopper, and with good reason. Their melt-in-your-mouth ham has been hand-selected, deboned, trimmed and cured over 500 days in salt and Mediterranean sea breezes by the Pio Tosini family exactly the same way for over a century.
"You can taste the difference immediately. But how to convince customers to take that first taste, and then to treat themselves?"
(Yes, I totally stole that from Braden!)
To get the QR codes in place they needed buy in from the butcher shops. The good news was that the butchers, shop owners and distributors already swear by Pio Tosini prosciutto.
The campaign was a great reminder to showcase it and talk it up to customers. The Rogers Collection reached out personally to the distributors and retailers participating in the promotion to explain the campaign, and offered discounts and prizes to the locations with the highest participation rates. The response was overwhelming.
The next challenge was to create an offer interesting enough that people would be willing to take out their smart phones and scan the QR code.
Cue the prosciutto. An entire leg's worth.
That was certainly enough of an incentive. (Unless you are a vegetarian. But then, chances are, you're not standing in front of a deli counter, drooling over aged cuts of meat.)
People who scanned the QR code were taken to a special, mobile-friendly landing page: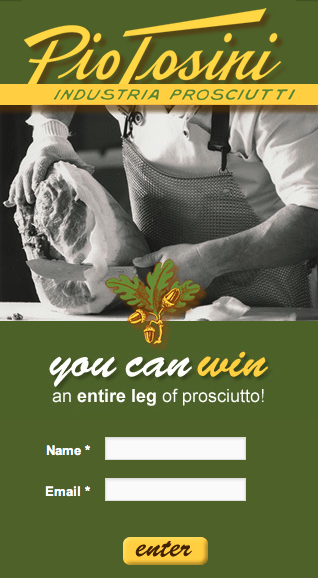 Unique QR codes allow Rogers to track which deli generates the most signups. 
Once the shopper has entered the contest (by entering their name and email) they are directed to a second page with a video and recipe ideas: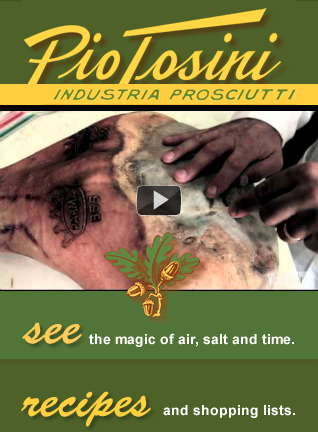 The contest is just getting going, but as we collect more data we'll share it here. 
In the meantime, go eat some prosciutto!