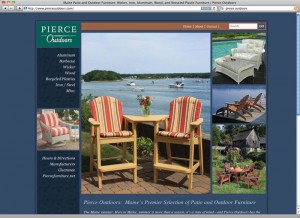 Pierce Outdoors, a Maine company selling a premier selection of patio and outdoor furniture recently relaunched their site.
Pierce Outdoors sells high-quality outdoor furniture. Visitors to their website can view the products they carry from a variety of different materials:
Pierce Outdoors was happy with their current website design, but felt that their search engine visibility could be improved. In addition, they wanted to be able to add, edit and delete products themselves, something they couldn't do with their current website.
Flyte helped Pierce move to a WordPress platform, the popular, open-source CMS for building websites and blogs. We created new landing pages for both categories and products that were keyword rich, helping increase Pierce's search engine visibility and qualified traffic to the website. 
If you're looking for great outdoor furniture, be sure to checkout Piece Outdoor Furniture. If you need a website that you can update yourself and ranks high in the search engines, contact flyte today!