Your reputation is on the line when you outsource your web marketing.
Today I got a comment on my blog post What Should I Title My Blog Posts for Maximum SEO? You'd think I'd be happy, right? Here's the comment:

"The written skill is so good." Well, sure, in comparison to your comment it absolutely is.
You may be wondering why someone would leave such a comment. Well, as the "thinking" goes, they want links back to their website because that improves one's search engine visibility. The words "Phoenix Divorce Attorney" in the image above do link back to a site for a…wait for it: a divorce attorney from Phoenix.
Never mind that the links in the comments section of my blog are "no-follow", meaning that the search engines more or less ignore them.
Still, the argument goes, people might click on the link to learn more about divorce attorneys in Phoenix.
Yeah. What percentage of my audience needs a divorce attorney from Phoenix? And if they do, wouldn't they be searching for one on Google rather than randomly reading web marketing blogs, hoping someone who was a divorce attorney would have left a comment? And furthermore, wouldn't they want one who can form a complete sentence?
"I will keep share in the future." Is this the attorney for you?
I can also see the the IP address of the person who left the message: 122.176.82.85. Here's what a quick Google showed me: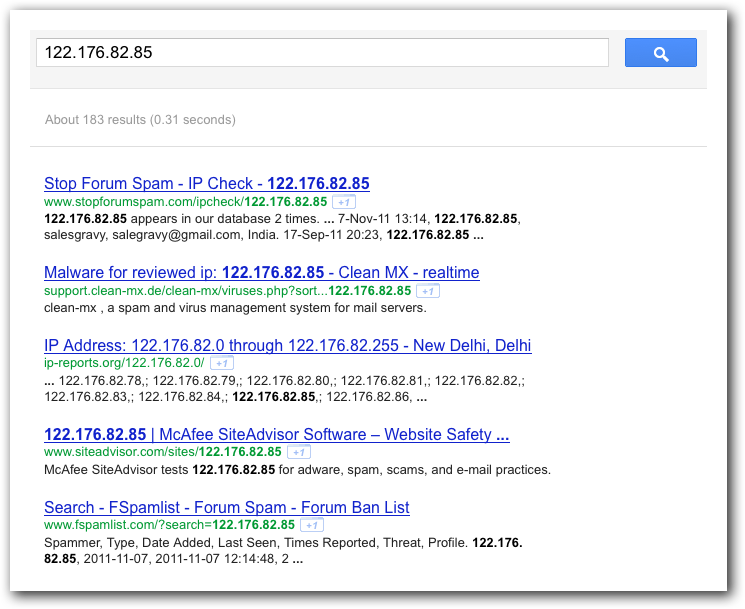 Now, obviously this law firm isn't the one doing the link building…they've outsourced it. (God help their clients if this is representative of their work.)
But if someone, perhaps out of morbid curiosity, did click on the link and found the Thrush Law Group, do you think they'd hire them? I wonder if the Thrush Law Group even knows that they're being marketed in this way?
So, should you keep all your web marketing in house?
Obviously, as a B2B web marketing firm, I can say without bias, that this line of thinking is misguided. 😉
Rather, you should talk to your web marketer/SEO firm/social media consultant on how they will increase your online visibility, drive more qualified traffic to your site, and convert that traffic into leads and sales.
If they can't tell you…walk away.