Google Plus recently opened up its platform for businesses. Here's how you can get started with your own page.
Yesterday I created a Google+ page for flyte. I turned on ScreenFlow, my favorite screen capture tool for the mac and created the following video.
Thanks to some fancy editing, some enhanced typing skills, and a trough full of Red Bull, I created this video that will show you in less than 3 minutes how to setup your own Google+ business page.
You can watch it below or check out How to Create a Google+ Business Page in Under 3 Minutes on YouTube.
In the video I show you:
how to create your page
how to upload photos
how to upload videos
how to share content on your page
how to promote your page
how to add people to your page's circles
One thing I didn't include is how to switch from your personal Google+ account to your business's, so here's where you do that: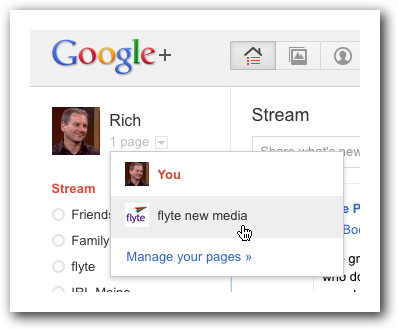 More info coming soon, so make sure you check out flyte's page on Google+ and please add us to your circles!