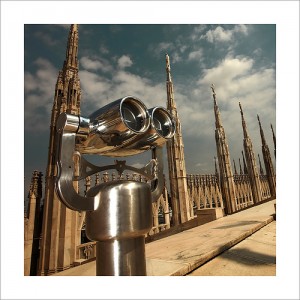 This post goes out to my good friend Braden Buehler who was looking for real world examples of how blogging can help increase your visibility, online and off. I've got dozens of examples, but here's a recent one.
It wasn't too long ago that I became aware of QR codes and how they could be used for marketing. I went to see a local presentation on QR marketing and blogged my thoughts in a post called What is a QR Code? What is QR Marketing? I followed up with a post called Should You Use QR Codes in Email Marketing?
Soon after that I wrote a blog post for Fast Company called 13 Creative Ways to Use QR Codes for Marketing. I also contribute to Social Media Examiner and pitched them on a post on QR Codes, but they already had one in the hopper. Too late.
I also wrote an article (you remember articles, right? blog posts' older brother?) called QR Code Marketing for Small Business that I posted to our website.
I pitched a story for 207–an evening news magazine that uses me once a month or so for tech stories–on QR codes. They posted the segment to their website and I embedded it in our blog under the header, QR Codes Explained on TV [Video].
I followed all this up with another blog post called 50–Count'em, 50!–Creative Uses of QR Codes. (The bigger the number the more likely people are to retweet it, I'm discovering. At current count the post has 143 retweets and over 100 likes on Facebook.)
What happened next?
I got a call from CNN. (Yes, that CNN.) They were doing a story on QR codes and wanted to interview me.
How did CNN find me?
The same way any of us find information, they Googled for it. I'm not sure which post or article caught their eye, or maybe it was that I had multiple results for QR-related searches on the first page of Google. Whatever the case was, they interviewed me and a few weeks later they ran a story on CNN.com called Marketers Embracing QR Codes for Better or Worse. I was quoted extensively through the article, and they even linked to flyte. (Thanks, CNN!)
For a while that article came up in the top results in the news section. Friends who I hadn't talked to in a while had read the article (it was featured on the home page of CNN) and reached out. It definitely helped raise flyte's profile.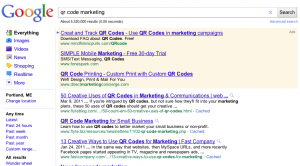 What's the outcome?
Right now the top 3 results for "qr code marketing" are:
50 Creative Uses of QR Codes in Marketing & Communications – from the flyte blog
QR Code Marketing for Small Business – from flyte.biz
13 Creative Ways to Use QR Codes for Marketing – from FastCompany.com, with links back to our blog and my Twitter profile
That's pretty good since we only started writing and blogging about QR codes about three months ago. And we're not experts in QR codes. And we're beating out people with a lot more experience and clout than we have, at least in this arena.
What's the takeaway?
That you can do this, too. Yes, it took work. I had to write 4 or 5 posts and articles. I understand a bit about SEO so I wrote my titles with good keywords and cross-linked them. But it led to CNN finding me, and I didn't have to hire a PR firm. In just the past month thousands of people have visited our website and blog who never would have heard of us otherwise. And I don't have to pay for people to click on my links like the sponsored ads above my results.
And if you can't do this, because you absolutely can't write, or don't have the patience to blog, or can't find the time because you're too busy "running your company"…well, then, you can always hire us to blog for you.
#justsayin
Photo credit: Alberto P. Veiga