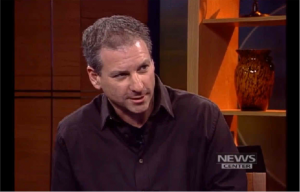 The other day I donned my "tech guru" hat for 207 again, (a little misleading–I wore no hat) to talk about storing your music in the cloud.
I looked at a number of services, including Amazon's new cloud music service (which started the conversation), as well as iOS friendly options like mSpot and ZumoDrive.
All of these services allow you to upload a certain amount of your music to the "cloud" so that you can access it from other computers and mobile devices. You can purchase additional space a gig at a time on most of these services.
To be honest, I don't see the appeal. I can carry about 50G of music on my iPhone or 120G of music on my iPod and never have to worry about whether I'm near a wifi hot spot or whether AT&T is going to deliver my music back to me. Even that's only a fraction of my music collection, so the idea of spending hundreds of dollars a year to access music I've already purchased just doesn't work for me, and the iPod/iPhone option fits in my pocket.
One service that I really did like was rdio. Besides being able to upload your music you can access their music ($5/mo for web, $10 for web & mobile access). I've already discovered a bunch of great music. The interface and product search needs some serious work (genres? release dates?) but everything else is pretty solid. I've never been a fan of "renting" music, but I think that after my 7 day trial is up I'll spend the $10 a month for access to a wide variety of music I wouldn't have otherwise given a chance.
You can watch the segment over at the 207 website or down below.