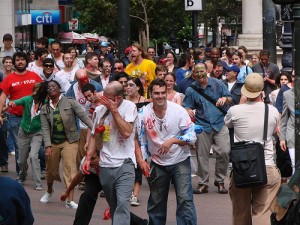 Dear Rich,
I am attempting to increase my Internet Presence by increasing the number of followers I have on Twitter. I will follow everyone who follows me. We will both gain by this simple social media concept.
My twitter account is @######. Thanks in advance for your support.
–Follow Back in Farmington
Dear Follow Back,
Thanks for reaching out.
The problem with that simple social media concept is that it's completely wrong. By autofollowing everyone (and everybot) that follows you, you'll be following plenty of porn bots before the week is out. You'll also have thousands or even tens of thousands of new followers…none of whom will be paying any attention to you because they're too busy finding other people who will autofollow them back.
You should worry less about the number of followers you have on Twitter. You should put out great quality content via Twitter that's of interest to your audience, and then the right people will start to follow you.
Whatever your area of expertise, I'm sure there's plenty of great content you could create and your audience will find you. Whether your best platform is Twitter, Facebook, LinkedIn, YouTube or your own blog, depends on who your audience is and where they like to hang out online.
Recently I saw a presentation by C.C. Chapman and he had a great line: pay more attention who you're following, and less attention to who's following you.
See you on the Twitter!
Rich Brooks
I Autofollow Interesting People on Twitter
Photo Credit: Jerekeys