For your business, it's critical to deliver on your promises. When you use a marketing tactic to gain a follower, a customer or build your list, there's usually some promise, explicit or implicit, that it will be worth the person's time and effort.
This is especially true when there's a certain amount "what's behind door number two" in the offer–such as a QR code (where does it lead?) or white paper (is it worth my time to download and read it?) There's a leap of faith–some might call it a suspension of disbelief–that is required of the recipient of this type of offer. If we ask our prospects to trust us, we better be ready to deliver on that trust.
So, the other day, as we drove to Sugarloaf for a weekend of skiing and riding, we passed the Wendy's in Augusta displaying this offer: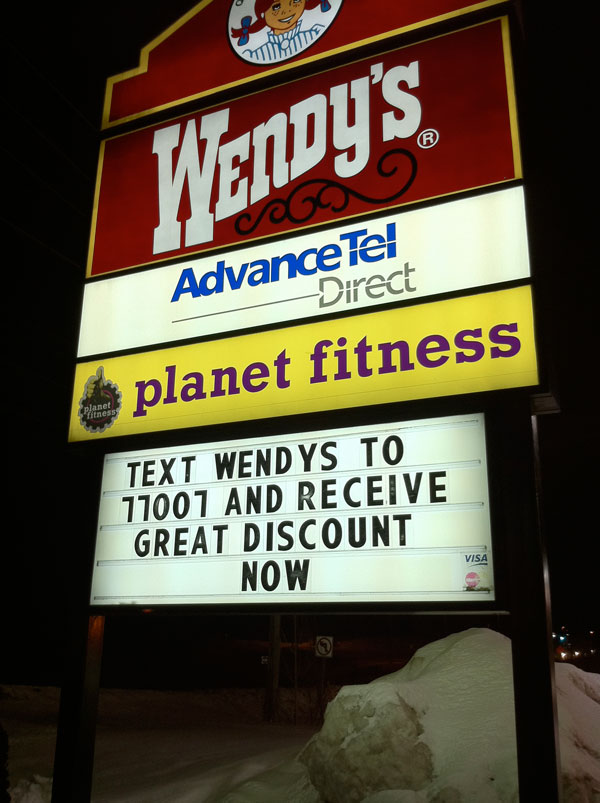 "You're not really texting them, are you?" my wife Cybele asked me incredulously.
"I've never really done anything like this and I'm curious to see how it works," I responded. I'm always interested in how companies–big and small–are doing their marketing, especially mobile marketing. So I texted WENDYS to 77007 and instantaneously I received the following text:
As my daughter would say, "Really, Wendy's? Really?" There's a couple of issues that I have with this offer.
First, after offering me a "Great Discount" they offer me a Frosty at a size smaller than the one on the 99¢ menu…and only after I've purchased something else.
Secondly, it was  March 4th when I saw this offer. It was still there the following day when I drove back south. I wonder if it will still be up when we go up next weekend.
Congratulations, Wendy's: you've trained me to not engage with your marketing again and taught me that your word isn't to be trusted.
Now, nobody's perfect and I'd be lying if I said I've successfully delivered on every customers' expectation over the past fourteen years. But if you don't want to damage your brand, you'll need to make sure that when it comes to list building and customer acquisition, that you deliver on all your promises, be they delivered by web, text, or carrier pigeon.