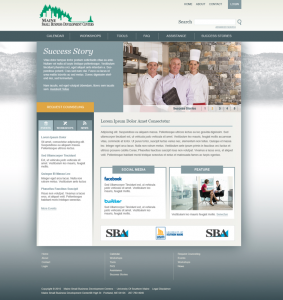 Maine entrepreneurs and small business owners looking for help in starting or building their business have a great resource in the Maine Small Business Development Centers.
The Maine SBDC offers free one-on-one counseling to businesses at offices around the state of Maine. Besides counseling, the Maine SBDC also offers plenty of resources on their website, on everything from Developing a Business Plan to Marketing Your Business to information on Taxes and Bookkeeping. Entrepreneurs in need of inspiration and example can check out the site's Success Stories.
Their new site also features events, workshops and small business news from around the state. It was nice to see that it didn't matter who was putting on the event, even if it was being presented by a "competitor," such as the Southern Maine Chapter of SCORE. The goal for the site, and the Maine SBDC is to help Maine entrepreneurs build successful businesses and improve the state's economic status.
Flyte has always thought of itself as a small business that helps other small businesses grow. That's why we were so excited to be part of the site's redesign. We met with the Maine SBDC and discussed with the their goals for the site, and their mission. One thing that wasn't getting across was the free counseling that was available. Whether it sounded too good to be true or was just lost in the shuffle of the home page, people weren't requesting the help they needed.
In the redesign we made the request for counseling a more prominent part of the landscape of every page, and included it in the navigation. We're still working with them to streamline the signup process, but that's another story. 😉
Flyte designed the templates and built them out in HTML. The ME SBDC has an in house developer who then took our templates and configured them to work on their Cold Fusion-powered infrastructure.
If you're a Maine based business looking for help on any aspect of your business, be sure to check out the Maine SBDC's revamped website and request that free counseling. If you're from out of state, there's no better time to move your business or start a new business in the state. Maine offers the perfect work life balance for anyone who likes to ski, ride, bike, kayak, hike, or just about any other outdoor activity.
Rich Brooks
Flyte: Maine's Unofficial Small Business Web Designer