Facebook rolled out some changes to their Pages this week that should give businesses more control over their presence on Facebook. Here's a quick overview of what page administrators are likely to see.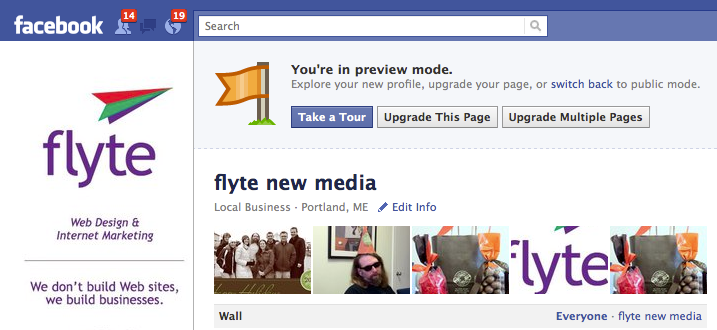 When you visit your Facebook Page you'll have the opportunity to "upgrade" your business to the new page style, to take the tour or to preview what your page will look like. Below are some screen captures from the tour.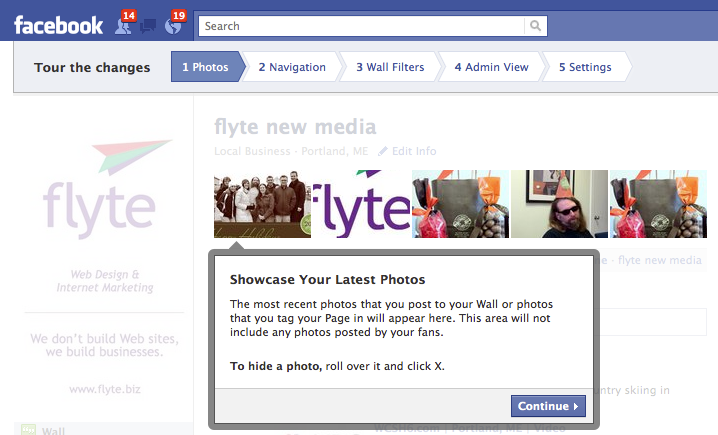 Your latest photos will show up at the top of the page, just like they do on your personal profile. Fans photos won't appear here, and you do have the ability to delete/hide photos.

The navigation now appears on the left column, similar to the profile pages on Facebook. File under "Big Whup."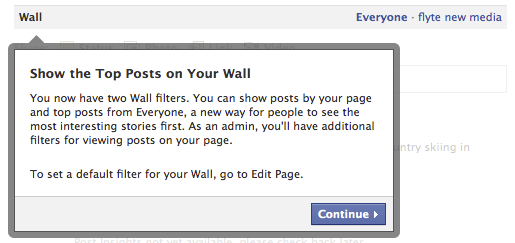 Posts won't necessarily appear in chronological order only. You can promote specific posts, making you look even more popular than ever. Better hope that someone slamming you isn't the most commented and liked post on your wall. Right, Cooks Source?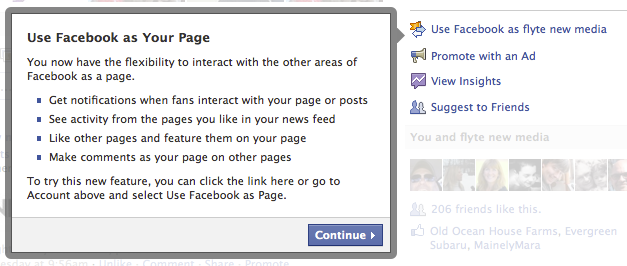 "Use Facebook as Your Page." That's a confusing turn of phrase, but basically you can use Facebook as your page in the same way you would as yourself…within reason.
Actually, it's the first bullet that's the most interesting I think: "Get notifications when fans interact with your page or posts." This is a great new feature, as in the past someone could put up some Acai Berry spam on your wall and you might not notice it for days. Up until now I've been using Nutshell Mail, which sends you an email which includes new posts on your wall, whether from you or a Fan.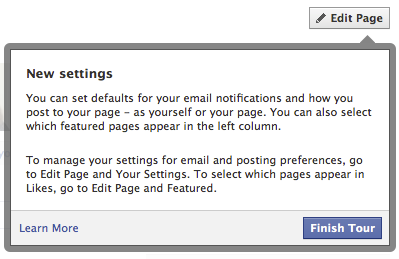 There are some new features in the administration panel as well. Facebook now lets you "set defaults for your email notifications and how you post to your page."
SWEET! That was the number one request we heard from clients who have Facebook pages…the ability to comment and like items as themselves. To do so you just need to edit the setting in the admin area.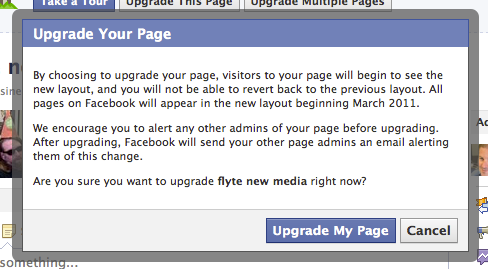 There's no turning back now…once you upgrade your page there's no CTRL-Z. However, Facebook is going to kick you to the new design in March anyway, so there's little reason (that I see) to hold back.
The new features and controls administrators now have over their pages make the switch well worth it.
What do you think about the new layout and features of the Facebook Page Makeover?