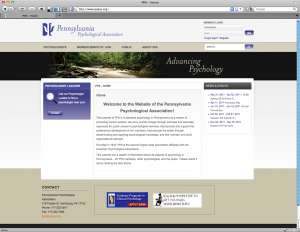 The Pennsylvania Psychological Association (PPA) is one of the largest state chapters of the American Psychological Association (APA).
Flyte recently finished redesigning and redeveloping their site on the Joomla platform. Visitors to the website can use the Pennsylvania Psychologist Locator to find a psychologist from Pittsburgh to Philadelphia and everywhere between.
The site also works as a membership tool for the PPA where psychologists across the state can join or renew their membership. Psychologists can also keep up with their CEs with interactive CE tests on the site which are e-commerce driven.
Whether you're a member of the public look for a psychologist or information about psychology, a psychology student looking for internships and other opportunities, or a psychologist looking for CEs or to join the PPA, you'll find what you're looking for at the new PPA's website.