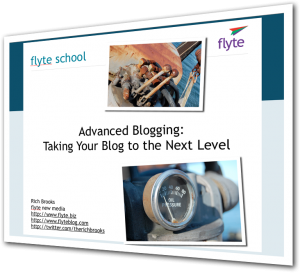 Rich,
How do I put on a webinar? I've been wanting to host free marketing webinars to attract new customers, but I'm not sure what to do. How do I get started?
–Curious in Calais
Dear Curious,
If you're looking for the mechanics of putting on a webinar you'll probably want to start with a webinar service provider, such as GoToWebinar or Webex. Some people refer to these services at webinar hosting companies. When people "host their own webinar" they usually mean that they're producing their own webinar, but using a platform like GoToWebinar. There's no need to reinvent the wheel here: if you want to get from point A to point B you wouldn't build your own car, would you?
Which hosting company you choose is up to you, but you should consider the following:
How many people can I host at once? Most webinar hosting companies have tiered programs that increase the number of participants based on how much money you're willing to spend with them.
Can I record my webinar? If you want to provide your webinar for later playback you'll want to record your webinar. Some hosting services provide this service, although many people prefer to use their own recording software independent of the hosting company. I use Screenflow on my Mac.
How will I handle audio? Do you want people to call in on their phones or be able to listen through their computer speakers? The all-in-one approach is nice, especially for people who might attend from outside your country, but the phone option allows people who don't have computer access to at least listen to the audio portion.
How will I handle registration? Many hosting packages include some sort of registration process, or you can run your own registration process outside of the webinar host. I've tried both and they both have advantages, although I like the built-in tools, as you can often easily blast reminders to attendees leading up to the webinar. And although you said you want to provide free webinars for marketing purposes, there may be other times you want to charge for webinars to develop additional streams of revenue. This often has to be done outside of the registration of the hosting software.
(Learn how to make the most out of your Live Webinar…)
Remember that there's more to a successful webinar than just knowing how to put one on. You'll also need to consider how you're going to market your webinar, manage registrations, whether you're going to have a support person there to help with any technical issues that arise, and even set up a second computer for recording the event. You'll also want to figure out how your webinar marketing fits into the rest of your marketing.