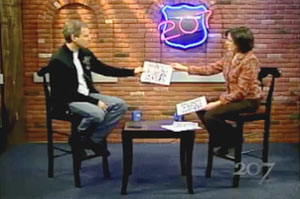 Since QR Codes are such a visual tool for marketing and communication, it seems only natural that TV would be a good medium to examine and explain them.
So, I found myself of 207 yesterday recording a segment on QR codes; explaining what they are, how to generate a QR code, how to read or scan one, and providing some ideas on how businesses and non-profits might use them.
With QR Codes being so popular in Japan, and smart phone usage exploding in the US, this is definitely something that all small businesses should pay attention to. Whether QR codes are a good fit for your marketing is something you'll need to decide based on your business and audience, but expect to see a lot more of these 2D barcodes in the near future.
You can watch the video below, or on the 207 website if you're reading this post in an email.