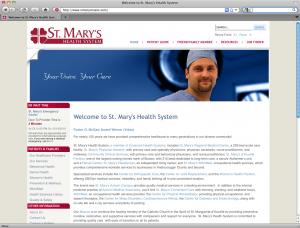 Flyte recently revamped the website for St. Mary's Health System, a health care provider in central Maine.
The revamped web site sports a better site architecture to handle and organize the many services that St. Mary's offers, including Senior Health, Women's Health, and Prevention & Wellness, to name just a few.
The e-commerce was also upgraded to be more secure, whether people are paying their bills online, making a donation, or buying something from the gift shop for a patient.
Both the current site and the previous were powered by Joomla, an open-source content management system (CMS). As part of the upgrade, flyte upgraded the site from Joomla 1.0 to 1.5 and learned an important lesson: there's no such thing as upgrading to 1.5. It's a complete do-over. 🙄
However, with the help of the marketing team at St. Mary's who are able to handle and maintain the site through the Joomla admin, the final product rolled out, better able serve St. Mary's community.