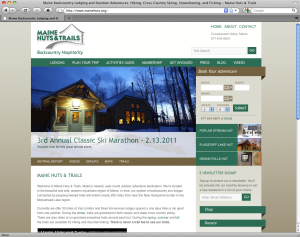 When we first met with Maine Huts & Trails I had a completely wrong-headed idea of what the huts were like.
I imagined having to cross-country ski into the woods where I would find a cold, weather-beaten cabin with a wood stove that I would have to get going. (If that's your perfect vacation, great! Please text me your photos as I sip margarita's by the pool.)
While cross-country skiing and outdoor adventure is still part of what makes Maine Huts such a fantastic vacation, the "huts" themselves are brand new facilities with plenty of amenities, all without losing the "roughing it" vibe people are looking for.
The huts are staffed, heated, have showers, electricity, and offer a meal plan. The huts are open year-round, with activities for all seasons. Maine Huts & Trails members get added benefits, free snowshoes and canoe rentals, discounts on rooms, for a low annual fee for both individuals and families. (You can become a member here.)
Flyte rebuilt the web site, created a cleaner interface, and improved the functionality for site visitors. It's easy now for site visitors to book their adventure, plan their trip, download trail maps and plan for year-round activities. The site was built on WordPress, an easy-to-use content management system that allows Maine Huts to add, edit and delete content, create new pages, upload photos and embed video. Everything the modern web site owner could want. 😉
Flyte also provided search engine optimization and social media strategy, which will continue after the launch to increase the online visibility of the site and attract more visitors.
If you're looking for an outdoor Maine vacation, regardless of the season, be sure to check out Maine Huts & Trails.
Rich Brooks
All-Season Maine Web Design