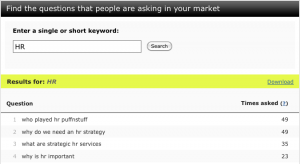 One thing that all bloggers struggle with at one time or another is "blogger's block": the inability to create killer content for your audience.
In fact, after "I don't have time to blog," the biggest excuse I hear on why people don't to blog is "I don't know what to blog about."
Well, if that's your big concern, worry no more. Flyte's own search engine marketer, Nicki Hicks, showed me this great web site from WordTracker Labs that pulls questions asked of its partner search engines around your keywords. the tool is called Keyword Questions.
For example, let's say you have a blog about HR (human resources.) You type in "HR" to the search box and away you go. I've found that putting in really short keywords works better; trying to refine your keyword phrase will return too small a sample. Since this tool already brings back "long tail" results you don't need to worry about over filtering.
WordTracker Labs then goes out and finds all the questions posed with "HR" in the search. These are questions real people asked at the partner search engines. Since the "partner search engines" are only about 1% of the total search market (according to a post I found at Digital Point that came from someone who appears to work for WordTracker) the number of people who are actually asking these questions is probably dramatically higher.
A few seconds later you'll see the next few posts you can create. Just take the question asked, make it your post title, and then answer the question in your blog post.
Monday you write "Why Do We Need an HR Strategy?"
Tuesday you write "Why is HR Important?"
Wednesday you write "How Can HR Contribute to an Organization's Competitive Performance?"
and so on.
I think you can skip "Who Played H.R. Pufnstuf?" although I'd keep it in my back pocket for a rainy day. Or maybe turn it into, "What Can H.R. Pufnstuf Teach Us About H.R.?"
I even created this embarrassing video called How to Create Killer Blog Content With Keyword Questions at YouTube. Enjoy.