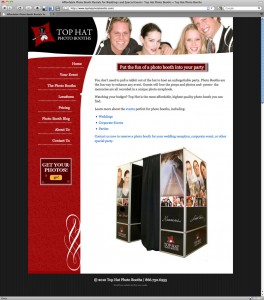 We recently completed a relaunch of Top Hat Photo Booths, a photo booth rental company with locations in Floria, Maine, Massachusetts, New York and Rhode Island.
There were a few things that made Top Hat Photo Booths a cool company to work with:
Their photo booths are much cooler than traditional rental photo booths; they can be taken apart and set up just about anywhere. That means they would work on a casual wedding in a meadow in Maine or on the rooftop of a Manhattan apartment.
Their booths offer great branding opportunities; the sides of the photo booth can be tailored to your needs, whether they evoke wedding images (champagne glasses clinking) or your corporate image for a big corporate event.
Their prices are lower than their competitors. With pricing that starts at just $750 they're hard to beat.
Top Hat had a nice looking site, but as they were about to expand into several new markets, the site wasn't as scalable as they wished. In addition, they couldn't make their own updates.
Our solution was to rebuild the site on WordPress and tweak the design and layout to make it more scalable so that it could grow as Top Hat grows. We also added a blog and created a nice feature where Top Hat could upload new photos for the top banner area and the site would automatically add a consistent treatment to all the photos.
The second part of the project, just starting, is to help Top Hat increase their online visibility. This will be a combination of social media and search engine optimization.
Even though Top Hat stretches up and down the east coast, no one is searching for "east coast photo booth rental." That means that Top Hat has to focus on their local search results as much as general search results, if not more. Now brides, event planners and companies can find information on:
If you need a photo booth rental for your next corporate event, wedding or bar/bat mitzvah, be sure to check out Top Hat Photo Booth.