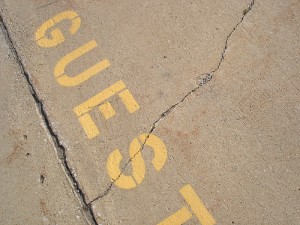 Whether you're looking to reach new audiences through your blogging, or want to attract a fresh group of visitors to your own blog, guest blogging may be the solution.
Guest blogging is just what it sounds like: you contribute a post to another blog or you invite someone else to post to your blog.
The benefit to the guest blogger is that he'll immediately be introduced to that blog's audience. The usual practice is that the guest blogger gets a byline and will often get a "resource box" at the bottom of the post. A resource box is a sort of a bio/call-to-action with "do-follow" links to their own blog, web site, Twitter page or e-commerce site.
The benefit to the blog owner is that she'll get fresh content for her blog that she didn't have to create herself. In addition, it's typical that the guest blogger will promote his post through his own social network, driving new traffic to the blog. These new visitors may end up reading other posts, driving up page views (and ad rates), subscribing to the blog, and following links back to the blogger's main site.
The benefit to the blog's audience is that they get fresh ideas, often that complement the main themes of the blog. Guest posts at a marketing blog could be about sales or direct mail. Guest posts at a wine blog might be about stinky cheeses or stemware.
If you're planning on supplementing your own blogging with guest posts, be sure to know what you're getting into:
There's still work involved: you'll probably want to vet new posts and new bloggers, which means some sort of application form and filtering process.
You'll need to created some sort of editorial guidelines: how long should posts be? Can they be repurposed or must they be original? How "salesy" can they be? How many outbound links are OK? Who's responsible for finding images?
You'll need to determine how you want to receive content: are Word docs OK? Google Docs? HTML pulled from WordPress or TypePad?
You'll need to determine what type of credit you'll give: how big is the resource box, how many links can they create to their own site, and does "anything go" within that resource box?
If you're guest blogging for someone else you'll probably want to know the answers to a lot of the same questions. Plus, what type of promotion will the blog owner do on your behalf? What's expected of you as far as marketing and promotion goes? How big an audience does the blog have, and how many unique pages view a month does it receive? Does the blog editor get "final cut" over your content?
This has been on my mind a lot lately as I've been guest blogging for the Social Media Examiner and BlogWorld. In addition, I've been looking to expand the number of voices on the flyte blog, especially as I'm considering launching a new blog/venture in the not-too-distant future.
So, here it is: I'm looking for guest bloggers for the flyte blog. I'm hoping to have one fresh blog post a week from a voice outside flyte that target small business owners and non-profits. The topics can be on marketing, sales, HR, communications, direct mail, vendor relationships, building membership…whatever!
If you're interested in guest blogging at the flyte blog please fill out the application form below to get the ball rolling. If you proposed topics seem to be appropriate for our audience we'll be back in touch with more information!
Rich Brooks
Small Business Blogging Consultant
Photo Credit: Stephen Cummings