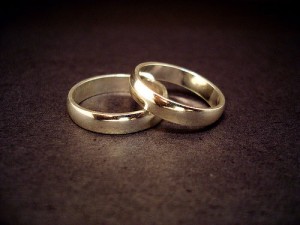 When people find out that my wife Cybele works with me they often wonder how we do it. To be honest, before Cybele came to work at flyte, I wondered if we could do it.
First off, we're not "that couple" that can spend all of our time together. We're very respectful of each other's personal time and life outside our marriage. Tuesday nights are "girls night out" and Thursdays belong to the guys. Even on vacations we have "down time" where we read or spend time by ourselves, and I've been known to say, "can we talk about this later? I'm in the middle of a big boss battle and the zombies are swarming."
So when Cybele was feeling burnt out at her previous job and I was looking for someone to step in and help out with the accounting and project management, we started talking about whether Cybele could work with–and for–me. We decided to take the plunge, but first set up some ground rules and other rules we developed over time.
I'm not promising that this will work for you and your husband or wife, but it's been a few years and I speak for both of us when I say our marriage is better than ever. This is in part because by working at flyte Cybele can work less hours than her previous job required, which means she now does almost all the family shopping, does drop off and pick up for school and camp 80% of the time, and pretty much runs the household. This relieves a lot of the stress we had before when we were both jockeying for 50 – 60 hours of work a week while laundry, chores and stress built up at home.
Know who's the boss. Here's our rule: I'm the boss at work, Cybele's the boss at home. That doesn't mean we don't respect each other's opinions, and that we can't be swayed in our decisions. It just means that if there is a disagreement (and we're both pretty

pig-headed

strong-willed personalities) that I get the final decision at work, and Cybele gets it at home.
Hire with good reason. I wasn't hiring Cybele just because she's hot. When it comes to business acumen and education, she can run circles around me. She has an MBA and worked for years in a bank. The closest I ever came to a business class in college was typing other people's Business 101 papers for beer money.
Have compatible strengths. Cybele is detail oriented. I'm a big picture person. (This is what lazy people with no follow through always say about themselves, by the way.) She knows how to be tough when the situation calls for it, while I worry too much whether people will like me. (Paging Michael Scott.) However, I'm usually better at seeing the other person's side in a conflict and finding a compromise that works. When we work together we usually find the right balance in dealing with clients, employees and vendors.
Don't bring work home with you…or do. I often hear from couples who work together that they never bring work home with them or never talk about work over the dinner table, or after 7pm, or during sex. If those lines-in-the-sand work for you, that's great. Personally, Cybele and I love talking about work, clients and marketing strategies whether in the office, or at home, or on vacation. The only rule we have is if one person doesn't want to talk about work right then, the other person backs off. Having rules about when to leave the office behind is important, but make rules that work with your lifestyle, not someone else's.
Prep your co-workers. Before Cybele started I knew there might be some weirdness with my co-workers at flyte. I know that I'd be a little bit on edge if suddenly the boss's spouse came to work. Would he/she be expected to work as hard? Could we come to the boss if we had trouble with the spouse? Would my promotion be blocked by the hiring of the spouse? I talked a little with my co-workers about what Cybele's role would be and what it wouldn't be. I probably could have done a little better job on this looking back on it, but it seemed to all work out. (As far as I know. As the boss, you're always concerned that people don't tell you everything, but hopefully I reduced some anxiety that my co-workers may have felt.)
Don't fight in public. Early on when Cybele was at flyte I asked her to give me a off-the-cuff estimate on some work. She wanted to go back to her office and spend some time on it, but I pushed her to give me a quickie estimate. After a little more back-and-forth she started yelling at me. I asked her to close the door and I told her, "there's no yelling at flyte. I know at your last job it was expected that you would have to yell to get someone to change their mind, but that's not the vibe here. Plus, if people see us fighting in the office, it will destroy morale because everyone will think the company's falling apart." I also apologized for putting her in such an uncomfortable position and gave her the opportunity to go work on the estimate back in her office. As far as I can remember, that was the only time anyone raised their voice at another co-worker in our office.
Put some space between you. This may be a rule that doesn't apply for your business, but at flyte Cybele and I are about as far away from each other as possible without hanging one of our desks out the window. In fact, there are many days that we don't see each other much more than before she worked at flyte. That definitely helps us from getting on each other's nerves too much.
Be willing to fire your spouse. Before we started working together we made a rule: if this didn't work out I'd help Cybele get a job somewhere else. I knew how smart, capable and talented she was, but we were both nervous about how we would work together, and how it would be spending all day together in the office then all night together at home. We decided up front that our marriage and our family were more important than the company. If we saw that working together was destroying our home life, she'd quit or I'd fire her. Period.
I can't promise that by following these rules your working and living relationship with your spouse with be all milk & honey, but they worked for us. If you have any tips on working with (or for) your spouse, we'd love to hear them. You may also want to check out To Love, Honor and Report To, by Meg Cadoux Hershberg in Inc. magazine about what it's like to work for your spouse with a slightly different ending.
Rich Brooks
aka Mr. Cybele Brooks
Photo Credit: Jeff Belmonte