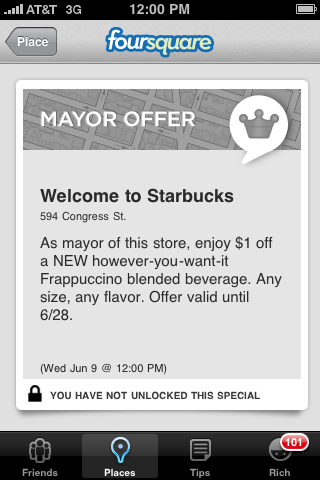 If you're an active user of foursquare, the popular location based app, you may have noticed the "Special Nearby" tab when you check in somewhere. By clicking on that tab you're taken to a "special" from a local vendor.
However, most of the foursquare offers I've seen aren't all that special. Take this offer I just saw from our local Starbucks.
If you're not a foursquare user, the one thing you need to know is that any location on foursquare can have one (and only one) mayor. The mayor is basically the person who checks in the most. If there's more to the algorithm than that, foursquare isn't telling.
This offer provides $1 off a frappuccino (normally $3.50 – $4.50) to the mayor of the Starbucks at 594 Congress St. in Portland, Maine. That's not a bad deal, but it's only for the mayor.
Since Starbucks is a popular spot, and has a lot of wired patrons, there's a big difficulty in unseating the current mayor. In fact, the current mayor may be a daily customer, basically meaning you'll never get your $1 discount, or you'll spend a few hundred dollars getting it, and certainly you won't get it by 6/28 when the offer expires.
What this Starbucks should do instead is offer $1 off to everyone who checks in and shows the barista that they've checked in. That way you'll encourage a whole new group of caffeine-deprived foursquare users to come into your shop. In addition, since foursquare users often sync their foursquare profiles to their Twitter and Facebook accounts, that check in is promoted to all their friends and followers.
In fact, how about tweaking the offer to anyone who checks in and says they're getting $1 off a frappuccino at the Congress St. Starbucks by checking in on foursquare will receive the discount. Now you're getting people to do your promoting for you.
If you have a physical retail spot that requires foot traffic, advertising on foursquare can be a powerful tool. However, if you make it too difficult for your customers to earn that reward you'll just be adding to their frustrations, and getting them to go over to Bard Coffee instead, a much cooler, locally owned coffee shop. 😉