LinkedIn is a powerful social networking site, especially for people involved in B2B (Business to Business…but you knew that, right?)
Here are three things you can do to increase your LinkedIn profile and your network.
Stop Sending Generic Invitations
When you reach out to connect with someone on LI, you can send a personal message, which LI pre-fills in for you. Well, it's not very personal if you go with the generic message LI generates, is it?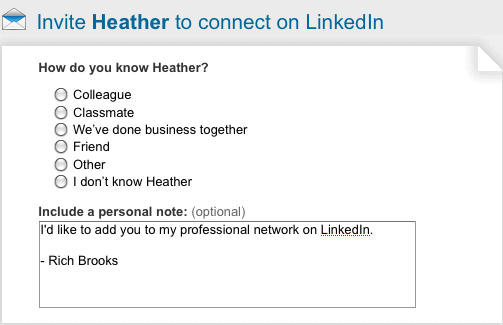 Instead, let her know why you're reaching out, how you admire her work, how you miss being her cubicle mate, whatever is appropriate. Your chances of getting networked, especially if the connection is tenuous or a little dated, will greatly improve.
Add a photo.
A few years it was fine not to add your photo to your LI profile; they were few and far between. But we now live in a Facebook world, people, and it's time to get with the program. People want to see who they're networking with. And, unlike Facebook, a photo of your dog, your kid, or that shot of you doing a 10-second upside down keg stand isn't appropriate. (Although that last one is impressive.)
Also, use a photo that was taken in the past couple of years. If you're sporting a handlebar moustache or beehive hairdo you're not fooling anyone.
Get Current.
It amazes me how people leave off the last five years of their business life. Take some time right now and read your LI profile, including the summary and previous history. Do you need to get rid of some dust bunnies and add some recent accomplishments or accolades? Then get to it.
Recommend, and Get Recommended.
The number of recommendations show right near the top of your profile, so maybe it's time to reach out to some satisfied clients and ask them to write a recommendation for you.
On the flip side, don't wait to be asked to write a recommendation for someone else. Plan on reaching out once a week–unsolicited–and create a well-deserved recommendation for a co-worker, vendor or even a client who's doing especially good work. It won't go unnoticed.
Stop linking to "My Company."
As with all social media sites, the more "lived in" your profile appears, the more legitimate it looks. So move away from the generic labels and make them your own.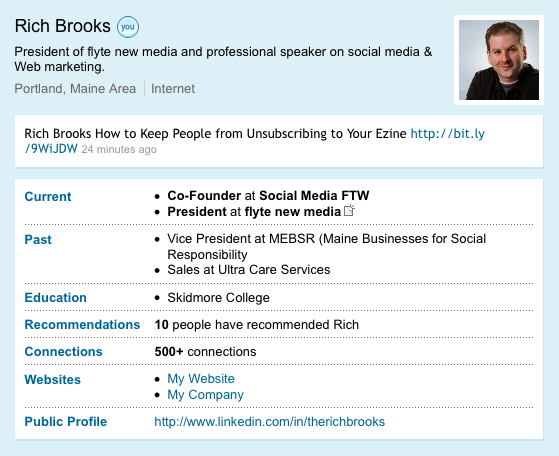 Here's the typical LinkedIn profile with the offending "My Website" and "My Company" links in the Websites section. Your first step will be to click on the Edit My Profile button (under the Profile button in the navigation bar at the time of this writing.) This will allow you to make changes to your profile.

Click on the "Edit" link next to "My Website."

That will change the look to what you see above. Click on "My Website" and choose "Other."

Once you've chosen "Other" you'll be able to type in the label of your choice, whether it's your Web site, e-commerce store, blog, Facebook fan page, or whatever.

Save, and when people next check out your profile they'll see the personalized links in the Website section and be so impressed they'll be unable to resist joining your network.
What else?
What else do you do to make your LinkedIn profile all it can be?
Rich Brooks
I'd Like to Add You to My Personal Network on LinkedIn