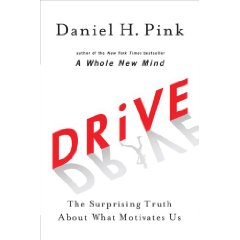 I just finished Daniel Pink's great new book Drive: The Surprising Truth About What Motivates Us. It's the perfect companion to Freakonomics, Superfreakonomics and just about anything Malcolm Gladwell ever wrote.
It's a must read for anyone who has a supervisory or managerial role in their business, or anyone who has a kid. (More on that later.)
A main theme of the book is what science knows about motivation, business isn't putting into practice. Through several surprising experiments, we see that some traditional forms of motivation are, well, demotivating.
For example, when school children who loved to draw were paid (in ribbons) for their art, it actually got them to create less art after the rewards were discontinued. Another experiment showed that when a reward was dangled in front of test subjects they actually performed worse than the control group that was offered no reward for solving the same problem.
The takeaway here is to not reward behavior for work that already provides people intrinsic satisfaction, as it will likely have a detrimental effect.

The book also talks about the importance of autonomy in motivation, and how most people will perform better with increased autonomy. That means they can have say over their tasks, their time, and even their team–the people they work with on a project.
As we look at our own companies, we have to see what type and level of autonomy we feel comfortable giving our employees…and then maybe going a bit outside of our comfort zone. Pink suggests setting up a trial run to see if it will work in your company, maybe like a six month experiment, or allowing employees 10% of their time to work on any project they like.
We also learn about Motivation 2.0, more commonly known as the carrot and stick method. Do things right, you get the carrot. Do things wrong and get the stick. It was a very effective motivator for years when everyone's job description read "cog." However, in today's economy, Motivation 2.0 is a relic that's holding us back.
The carrot/stick can be a powerful motivator, and studies show that it can work more quickly than intrinsic motivators. (People lose more weight when with bikini season upon them, as opposed to wanting to be in better health.) However, the results can fade fast. (People put back on the weight after bikini season is over.)
Also, as seen in the Freakonomics series, people respond to incentives, but not always in the planned or desired way. In the series premier of Undercover Boss we see some examples of incentives gone awry. In trying to increase efficiency in Waste Management, president and COO Larry O'Donnell sees that he's (indirectly?) responsible for a woman driver having to pee into a coffee can stored in her truck and another woman sprinting down the hallway so she's not docked at double her pay rate. His goal was to provide more value to stock holders, but is this a sustainable business model? Judging by his own reactions in this heavily scripted reality show, probably not.
If we reward employees for certain behavior, we need to be aware that the outcomes may not be what we expected or desired. By rewarding sales we may be incentivizing our sales team to take on the wrong types of jobs to make their quotas. By rewarding efficiency we may be causing our employees to cut corners and not do their best work because they know they won't get a bonus for quality work or happy customers, but rather by having a higher hourly billing rate.
This got me thinking about our own billing style at flyte, which is mostly based on how many hours we expect a project to take. But does this inadvertently tell my team that we value efficiency over quality?
Should we change the way we bill for projects and pay less attention to how many hours it takes us to complete the task? Is the billable hour an artifact of the soon-to-be past? And if so, what does a company that has traditionally billed by the hour do instead? Would getting rid of the billable hour get our employees to enjoy their work more and create a better end product? At the same time, how do you defend against the client who is very particular about what they want to see, or gives vague feedback like "I'll know it when I see it."?
I don't have the answers, but Drive definitely got me asking the questions.
Other sections of the book demonstrate that intrinsically motivated people succeed more than extrinsically motivated people; they outlast and outperform extrinsically motivated people.
This may make you ask different questions during the hiring process, since the studies show us that the best teams are built of people who are self-motivated and get enjoyment from their work, rather than those who need awards or perform best in a bonus-driven company.
Drive recognizes that no amount of intrinsic motivation can overcome a salary that doesn't pay a living wage, but does show that just throwing more money at people may have a detrimental long-term effect.
One of the later sections was on what this research tells us about raising our own children–which is fascinating–but I'll save that for part II of this review.
In the meantime, be sure to pick up Drive, a fascinating look at what really motivates us.