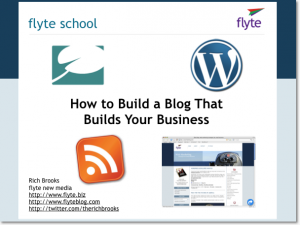 The other day I presented at a tourism conference on social media. By a show of hands I asked how many people were on Twitter, had Facebook fan pages, and blogged. I was surprised–and a bit disappointed–that blogging trailed Twitter and Facebook.
Not that I don't love Twitter and Facebook, but blogging has so much more to offer your business. It offers unparalleled search engine optimization, it's a great tool for establishing your expertise, and you have greater control over your own content, not relying on the continued popularity of a social media platform.
In my opinion, there's no better tool in your Web marketing toolbox than a blog.
If you don't understand why, or you want to know how to attract more readers to your blog, or you need your blog to generate more online leads, than you should check out flyte's upcoming webinar: How to Plan, Build and Promote a Business Blog. With 60 minutes of content and 30 additional minutes of Q&A, you'll leave the webinar with renewed blogging energy and ideas on how to make your blog work for you.
Date: Thursday, 2/11/10
Time: 1pm – 2:30 ET
Place: Your desktop
Cost: $50 Now just $30! Save $20 w/discount code "baseball"

There are a limited number of seats (yes, even webinars have "seats") so register now!