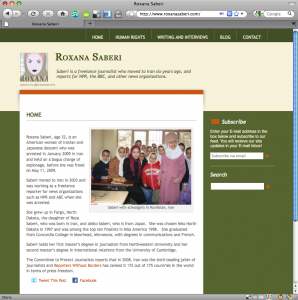 Today flyte launched a website for Roxana Saberi, an American journalist of Iranian and Japanese descent.
She is a freelance journalist who moved to Iran six years ago and was arrested in February 2009 on charges of espionage and held in Iran until her release on May 11, 2009.  Her arrest and detention was the subject of international outrage.  Since her release Saberi has been working on a memoir of her experiences in Iran.  Between Two Worlds, My Life and Captivity in Iran, is due to be published by Harper Collins in March of 2010.
Her new WordPress-powered website also has a blog that provides an easy platform for Roxana to update her fans and followers about recent writings and speaking events.  Using WordPress plugins, every time Roxana writes a new blog post, they automatically update her Facebook fan page as well as her Twitter feed.