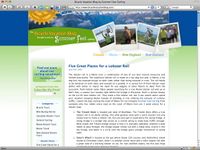 We just took the training wheels off my 4-year-old's bike this weekend. She's not quite ready for a bicycling vacation, but you just might be.
Whether you're looking for an "adrenaline-pulsing challenge" or a "leisurely day filled with stunning naturescapes" there's a new bicycle vacation blog for you.
Designed by flyte and powered by WordPress, the Bicycle Vacation Blog by Summerfeet Cycling Adventures has travel tips, bike buying advice, and lists of the five best places for a lobster roll. And they're just getting started.
Be sure to sign up for for the blog posts via email or RSS to inspire you for your next bicycle tour vacation.