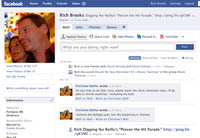 This month's flyte log arrives in email boxes around the world today carrying a message of hope. Hope, that you'll finally get over your fears and join Facebook; for the good of your business, the good of your country, and the good of all that is holy.
Sorry. Heavily medicated this morning as I fight this cold.
In any case, last night I finished up my four week Web marketing class that I've been teaching over at the University of Southern Maine. One of the big topics was social media, and how small business owners and entrepreneurs can use social media sites like Facebook and LinkedIn to build their network and grow their business.
Last month I wrote Six Simple Steps to Generate Business from LinkedIn. This month I turned my attention to Facebook. Sure, a lot of people hear Facebook and think college students, superpokes and throwing sheep. (If you don't know what I'm talking about, don't ask.)
However, with over 250,000 new users every day, and the fastest growing demographic 25 and older, it's time to realize that your customers and your competition are already on Facebook. It's time for you to take the plunge.
So, please check out Facebook for Small Businesses and Entrepreneurs and use it as a guide of how to get started with this very powerful social media tool.
And be sure to check out the flyte new media page on Facebook and become a fan!