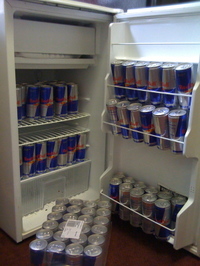 Two beautiful women just delivered three cases of Red Bull to our offices here at flyte. (Actually, I can't be sure they were beautiful, but the way the light gleamed off the three cases of Red Bull they seemed entirely angelic to me. Nah, I'm pretty sure they were beautiful.)
As I carried one of the cases triumphantly around the office above my head, Andy asked the all important question: "when will they be cold?" Realizing they weren't getting any colder two feet above my head, I stuffed as many of them as I could in our small fridge.
Now I know that my team will be sufficiently energized to complete the work ahead of them.
I'm wondering if we'll have to start changing the tagline on the bottom of all our Web sites: Web Site Design by flyte new media | Fueled by Red Bull.