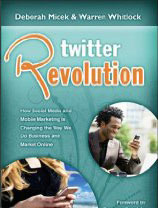 After meeting Coach Deb (Deborah Micek) at BlogWorld, she gave me some advice on changing my Twitter handle. According to the book, Twitter Revolution, which she co-wrote with Warren Whitlock, it's a good idea to have a handle without underscores or numbers.
The reasons are:
Underscores and numbers give the impression that your first choice was taken, showing that you're a late adopter (or at least not the first adopter.)
It's more work on an iPhone (a popular Twitter interface) to get to the numbers or underscores.
They take up more characters, and with 140 characters per message, space is at a premium.
Now, there are exceptions to every rule. Your may be known as the B2C Coach, in which case a number might be preferable. Or, you may have a handle that requires a well-placed underscore like @speedofart, @therapistfinder or @penisland (courtesy Bad Domain Names.)
If you do want to change your handle, Twitter makes it easy. First off, you don't lose any of your followers. There's nothing they need to do. Making the change requires a simple two-part process and a second email address.
First, click on the settings tab at the top.

Then change your name.
Assuming your name is available, that's it. However, you might want to take this second step.
Create a new Twitter account using a second email address (thanks, Gmail!) under the original, now available Twitter handle. Post a tweet that asks everyone to follow you at your new handle.
And, if you haven't yet, follow me (Rich Brooks) on Twitter.