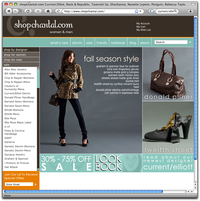 This week flyte launched a revamped Shop Chantal, an e-commerce site for Chantal, a fashion shopping site for women and men.
Chantal Young, who runs the retail shop and the online store has a great taste for fashion and offers a wide variety of designers, from Alex Woo to Z-Brand and everyone in between, whether they be good or e.vil.
Customers to Shop Chantal can shop by designer, for women or men, or just see what's on sale this week. They can also check out the LookBook to get a sense of what goes with what. (A big help for me now that I've outgrown Garanimals.)
The fashion forward can also find hot brands, like Current/Elliot. Yes, if you have been looking for these hot denim jeans in your size, Chantal has you covered. Whether it's Current/Elliot Elephant Bell Denim-Loved Wash or Current/Elliot Elephant Bell Denim-Loved Destroyed, you need not look elsewhere.
The site was built on Volusion, an e-commerce hosted platform. For the Web marketer there's a lot to like w/Volusion…a lot of back end tools that help you sell better and more. However, the lack of a testing area caused unnecessary aging on the part of my developers. Both our Red Bull and Geritol supplies need to be restocked.
What's next for Shop Chantal? A fashion blog and some social marketing. More on these as they develop. In the meantime, it's Christmas in September over at Shop Chantal, so head on over.