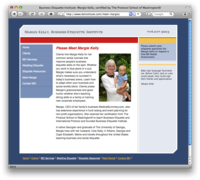 We generally don't promote our ProSites–our affordable Web sites for small business–when they launch, but in this case I feel that would just be bad manners.
I first met Margie Kelly when she took my Web Marketing for Entrepreneurs course over at the University of Southern Maine. After the course was over, she approached me and asked if I would be interested in develop a Web site for her business; teaching business manners in a blue jeans world.
If you ever have the pleasure of meeting Margie, you'll know there was no way I could say no to her. She's sweet, with a great southern accent, and impeccably polite. (No surprise, there.) She exudes warmth and charm and it's a pleasure to do business with her.
Visitors to her site can learn about business attire (blue jeans or Brooks Brothers), dining skills, and wedding etiquette. There's also a business etiquette faq.
The idea of business manners and etiquette may seem out of date if all you're thinking about is which fork to use. However, Margie has worked with giant corporations and camp staff to help them greet parents the right way. She's helped CEOs and people looking for a new job who are struggling with the interview process.
We invite you to check out her business etiquette Web site.