I've been using CrazyEgg, a tool that helps site owners get a better understanding of how visitors are using their Web sites.
CrazyEgg using tracking software to see where visitors are clicking on your Web site. What makes this a step above Site Overlay through Google Analytics, is that GA only tracks links. CrazyEgg tracks all clicks on a given page. Further, it breaks down those links in a few different ways.
To get started with CrazyEgg you can sign up for a free account which will allow you to track up to four pages. You'll need to add a piece of javascript to the pages you want to track.
CrazyEgg offers four views including Overlay, List, Heatmap and Confetti.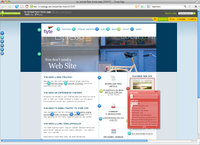 Overlay: You'll see different color-coded symbols by the links on the page you're analyzing giving you an immediate impression of what links are hot and which are not.
By clicking on any of these symbols you open up a window with more detailed information on how many people clicked on the link, and also the referrers that sent the visitors your way.
List: Provides a laundry list of all the clicks that took place on your page and organizes them by popularity. You can further export this list to Excel or other spreadsheet program.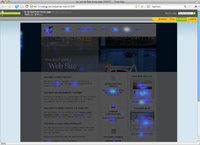 Heatmap: The heatmap view gives you a visual overview of where people clicked on your site. What I found interesting from this view (and Overlay) was how many people visited our Contact page or signed up for our email newsletter at the bottom of the home page.
I didn't expect to have anyone want to contact us before checking out the site, and I've always felt the email signup was buried, and that we were getting signups because of the email bait we offer. (That was significantly more popular, but it was nice to see some people just wanted to sign up for our email newsletter.)

Confetti: This fun view shows you EXACTLY where visitors clicked, and allows you to color coordinate the report based on the top 15 referrers, the top 15 search terms, operating systems, browsers, window size and even time to click.
It's interesting to run a test and see how people are interacting with your home page. You may find certain links you consider important are completely ignored, while others are getting a lot more play. Based on the reports you may (as I did) rework parts of the page to increase signups or get people to call you.
It's also interesting to see whether people are clicking on images or text calls-to-action. I was also fascinated to see people clicking on images that weren't links at all. I'm not sure if these were accidental or not, but it does get you thinking about how different people will act differently at your site.
There are–of course–paid levels of CrazyEgg for site owners needing to run more reports at once, but almost any entrepreneur can benefit from the free trial version. CrazyEgg is a great addition to Google Analytics as you strive to better understand your visitors and build a more effective Web strategy.