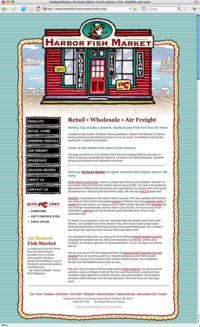 Harbor Fish Market is a real fish market and a Portland, Maine landmark. From its iconic red storefront (and logo) to its authentic seafood market, it's a piece of Portland history. Heck, we feature Harbor Fish's chalkboard on flyte's own Web site.
So it was with great pleasure that we launched a new Web site for Harbor Fish Market last week.
You can learn more about the different varieties of fish, lobster and other seafood that Harbor Fish has to offer. And, if you're looking for delicious seafood recipes so you know how to best prepare your flounder, haddock or lobster, Harbor Fish has you covered there, too.
Visitors to Portland, Maine, often come to Harbor Fish Market because it is a destination. Although there are plenty of places to buy lobster in Portland, Harbor Fish Market is where the locals go to buy fresh seafood and lobster. You can get a sneak preview of their seafood market at the site as well.
What Powers the Site?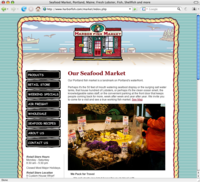 Behind the scenes there's a lot of cool programming going on that flyte developed specifically for Harbor Fish Market. We created an admin system where Harbor Fish can add, edit and delete products, as well as assign them to specific categories, such as fresh north atlantic ground fish or fresh large fish or steak fish.
Through the admin HFM can also create recipes and link them to the primary and secondary seafood ingredients.
When running a fresh seafood market, products come in and out of stock due to the season and the weather. Because of that, HFM needed a tool to quickly publish whether hundreds of products were in or out of stock. That tool was added to the mix as well to help inform site visitors.
Since Weekend Specials were a popular feature from the old site, we added a tool so that HFM could quickly add items to the specials from their products database, and add pricing and details to each item. Images are automatically pulled over from the database as well.
If you're coming to Portland, Maine this summer (or any other time,) be sure to put Harbor Fish Market on your list of places to visit. If you can't make it here, be sure to check out the Web site and put in an order for fresh Maine seafood delivered right to your door.