Had to laugh out loud at The Office from last night (4/24/08) and the problems Dunder Mifflin is having with the social networking tools they've added to the Dunder Mifflin Infinity Web site. That part starts about 3:11 in….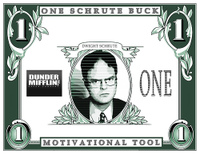 "I don't understand why our Web site needs to have social networking at all."
–Dwight Schrute
Now that deserves a Schrute buck.