If you've been looking for an easy-to-implement tool that will allow site visitors to share your content with their friends and associates, you should take a look at Siphs.
Sure, there's been ways to share Web pages for almost as long as there has been Web pages, but Siphs seems to be doing things right.
Siphs Setup
Setting up a Siphs account (yes, Viriginia, there is a free version), is simple. Once you've done that you can generate some HTML code that you can add to whichever pages on your Web site you wish to share. You can also drop the code into a template to make your life easier. This works on both a blog or a Web site.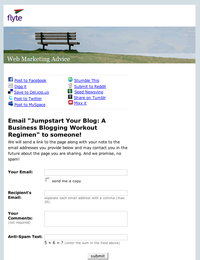 This creates an icon (or you can create your own) on your Web pages. When visitors come to your site and want to share your brilliance with their friends, they simply click on the link and are taken to a new page.
Depending on your plan you can customize the look and feel of this page as well. Not only can visitors send an email to friends (yes, this is also customized by you) but they can share it using a number of popular social bookmarking tools, including Facebook, Digg & del.icio.us among others.
Reporting
Another nice feature of Siphs is the reporting. On the reports page you get:
Recent Email Leads
Recently Shared (articles)
Most Shared (articles)
Shares Per Day, Week & Month
Shares by Medium
This last one is cool, because you can see not only who shared a Web page via email, but whether it was posted to del.icio.us, MySpace, Twitter or something else.
Responsiveness
Now, I'm not sure if you'll have the same experience as I did, but I've found the team behind Siphs to be incredibly responsive and pro-active (God, I hate that word.) Shortly after I signed up, they followed up with me to see if they could do anything to help me. One team member reached out to me to get some feedback. I provided some, and most of my recommendations were implemented w/in 24 hours! (YMMV.)
I've been adding the code to more and more of our Web pages as I'm seeing the usage grow. Soon it will be on all the pages on our site, and perhaps integrated into our blog as well.
In the spirit of transparency, flyte's become a Siphs affiliate. Of course, we wouldn't be one if I didn't think this product is a great fit for small businesses and Web developers alike.
To see Siphs in action, try it out on a recent flyte article: Business Blog Success: 10 Tips for a Profitable Blog.
Or you can signup for Siphs and add sharing to your blog or Web site right now.