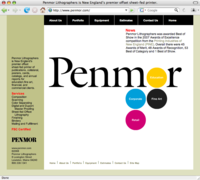 Today flyte launched a Web site for Penmor Lithographers, New England's premier offset sheet-fed printer. Penmor prints publications, collateral, posters, cards, catalogs and annual reports for education, fine art, financial and commercial clients.
The site was designed by Woodworth Associates, a graphic design and communications firm located in Brunswick, Maine. We worked with Brad Woodworth to convert his beautiful InDesign files into a working, breathing Web site for Penmor.
We also coordinated a little Flash movie on the home page to replicate the spinning cycles of the CMYK printer.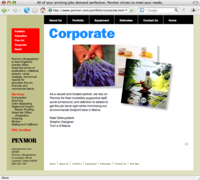 Visitors to the site can see Penmor's portfolio of featured Education, Fine Art, Corporate and Retail printing examples.
Some of their clients include:
Bates College
Bowdoin College
Idexx
L.L. Bean
T.D. Banknorth and
Tom's of Maine.
If you need quality printing be sure to check out Penmor Lithographers.