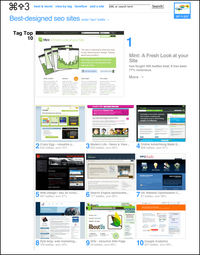 I'm not usually one for awards or awards shows or award sites…that is, except when I'm recognized. Especially when I didn't even know I was up for something so no one can accuse me of ballot stuffing.
Aubrey Alexander sent me an email yesterday informing me that we were rated the 9th best looking SEO Web site (currently #8…with a bullet!) at CommandShift3's Best Designed SEO Sites battle. (Command-shift-3 is how you take a screen capture on the Mac.) The site sets up side-by-side battles of two Web sites in a given category.
If you'd like to rock the vote you can. You can also submit your own site (or one you like.)
Well, what are you waiting for? Go stuff those ballots!
Rich Brooks
Eight Best Looking SEO Professional…or Something Like That