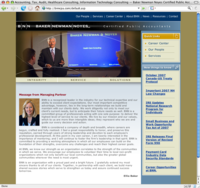 Today flyte relaunched an updated look and feel for Baker Newman Noyes, a CPA firm with offices in Maine and New Hampshire.
BNN offers a wide variety of services, everything from help with state and local taxes to IT services to Healthcare Management consulting.
The Our People section also got a face lift, by applying a consistent approach to information architecture throughout the bios section. There was a lot of work done by BNN to manage the photography and personal information on this section and throughout the site…Perry St. Louis was our contact at BNN and did a terrific job of corralling all of that data.
The biggest design overhaul was done in the BNN Career Center, with a fresh new palette of colors. One of the biggest goals of the site is recruitment out of college.
The new career center has a big section on college recruiting, as well as an area that gives a voice to current employees who talk about what it's like to work for BNN. Future plans may include videos of employees that will further engage college students who are interested in accounting careers, but want the quality of life that Maine and New Hampshire offer.