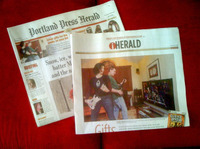 Today we (the Brookses, not flyte) was featured in a gifts for geeks article in the Portland Press Herald.
I was interviewed by Justin Ellis about what I wanted for the holidays. We started talking video games and I mentioned how my wife regularly kicks my ass in Guitar Hero.
Thus, a photo shoot was born.
Last week the photographer, Gordon Chibroski, came by to take some photos. In the small world that is Maine, Gordon had taken my Web Marketing for Entrepreneurs class over at USM.
Our girls, Maya & Sophie, were jumping all over the couches, getting in the way and disrupting our string of correct notes, so we sent them to the basement to play. After Gordon finished the photos he mentioned he'd like to get some photos of us playing with the Wii.
"Would you like to take photos of the girls playing?" Cybele asked. He thought that was a great idea so we called up the girls. While they were downstairs they had changed into the princess gowns making for another great photo opp.