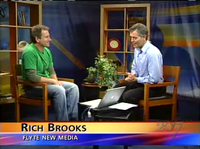 207, the evening news program for which I play "tech guru" has begun putting clips from their show on their Web site.
Sadly, because of corporate rules they can't add them to YouTube which would bring them more viewers and more recognition, and make it easier for me to embed the video of my recent segment on Social Media here in the blog.
Rob Caldwell and I talked about Facebook, LinkedIn, and Ning.
Still, you're just one click away. (Windows Media Player required. Sigh…)