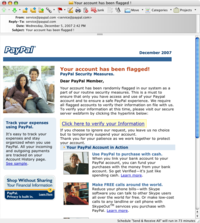 Today I received a fairly sophisticated PayPal phishing scam that made me take a second look.
It was in no small part due to the fact that I had received some PayPal payments recently for our How to Plan, Build and Promote a Business Blog workshop and just moved them to our bank account.
The subject line: "Your Account Has Been Flagged ! " was good; it's probably fairly accurate to what PayPal might say, except for the floating exclamation point.
Almost all the links within the email go to a real PayPal page, further confusing the average recipient. It's only the "Click here to verify your Information" with it's odd capitalization that links to the faux site.
At this bogus site the scammer will ask you to login with your PayPal username and password. Then he (or she) has all they need to access your PayPal account and more.
How can you protect yourself as the scam artists get more savvy? Easy: never click on a link in an email. Instead, visit Paypal.com (or whatever site is appropriate) and log in there.
No legitimate banking related site will include links to their Web site from an email. They've all had to deal with angry, deceived customers. They will tell you to visit their site by typing it in to your Web browser and go there.