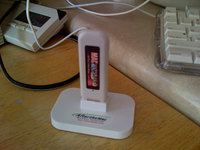 We recently purchased a shiny, new metallic iMac for the home office, replacing our old swivel-neck G4 iMac.
Since I want my daughters, three & five, (their ages, not their names), to feel comfortable on a computer, we decided to put the G4 iMac in the kitchen where they could bang away on it. We also wanted to be able to connect to the Internet. However, we didn't want to run the cable from the office into the kitchen.
I started doing some research into adding a wireless card in the iMac and saw pricing around $150 and up. However, after doing some research on eBay, I found After The Mac's USB wireless adapter for just $49.95. What's extra nice is that it plugs into the iMac's USB port, meaning I don't have to open up the iMac to install it.
While it's not as elegant as an internal card (more wires, more desk space required,) it's a great solution. I have been really impressed with the ease of setup, the wireless signal I'm getting from it, and of course the price.
If you have a G4 or G5 iMac without wireless capability I strongly recommend you take a look at the Mac USB Wireless Adapter from After the Mac.