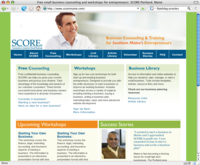 Since this is the blog for Web marketing strategies for small business, and since we're located in Portland, Maine, it's with great pride that we launched the brand new site for the southern Maine chapter of SCORE, Counselors to America's Small Business.
SCORE offers free counseling and workshops for small business owners and entrepreneurs. Visitors to the site can register and pay for the workshops online. Upcoming workshops include Starting Your Own Business, Sales & Marketing, and Writing a Business Plan.
The site also features a number of success stories of local businesses, everything from The Front Room (yum!) to Elm Street Assisted Living.
Flyte built back-end programming so that SCORE volunteers could update sections of the site without any HTML knowledge. The admin controls the Success Stories, Workshops, Events and the Resource Library. We also helped SCORE setup their email newsletter.
If you run a small business, or interested in starting one, I strongly recommend using the resources that SCORE offers, whether the Southern Maine SCORE or the one in your neck of the woods.