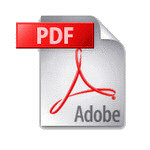 For years I've been telling clients to take important information out of their PDFs and convert it into HTML. This was because although search engines can read PDFs, I've never felt their as search engine friendly as HTML docs.
Well, I was wrong. It just turns out there are some extra steps to take to make your PDFs more search engine friendly.
I still think that PDFs should be reserved for specific goals, such as when formatting needs to be unchangeable, or insanely long curriculum viteas that have lots of formatting and are interesting to a very select group.
However, if you are planning on adding PDFs to your site and you want to learn how to best optimize them, check out Eleven Tips for Optimizing PDFs for Search Engines over at Search Engine Land.